Review
The Mayans' calendar comes to an end in 2012. When it is discovered that neutrinos from the sun are heating up the Earth's core to dangerous levels it seems that the calendar is not the only thing that is going to end. As the world comes apart at the seams, a few hardy folk fight for survival.
Roland Emmerich did not invent the disaster movie, but he appears to be its most ardent supporter at the moment. He destroyed much of the Earth when aliens attacked in INDEPENDENCE DAY and lumped half of it under glaciers in THE DAY AFTER TOMORROW. Now he's pulling the Earth's crust apart and pretty much destroying all of it. You can't accuse the man of thinking small.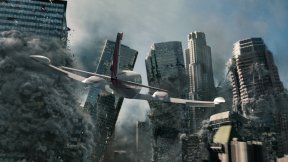 The thing is that when a disaster gets so big, it loses all definition. In THE POSEIDON ADVENTURE it was one small liner turning over, THE TOWERING INFERNO took place in one skyscraper, DANTE'S PEAK threatened one small town and VOLCANO took out a few city blocks of LA. When that is scaled up to the total annihilation of the entire human race then you are going to need some great characters and top-notch drama to make a dent between the bouts of destruction. 2012 really doesn't have that. There are some good actors involved. John Cusack is a eminently likeable lead, Chiwetel Ejiofor and instantly noble scientist, Oliver Platt a suitably slimy career politician and Danny Glover a respectable American President, but the script gives them nothing to work with. The dialogue is sub-comic book and the situations they find themselves in hackneyed. Supporting characters such as Woody Harrelson's hippy or the comic Russian billionaire undermine any hope for this to be taken as anything more than a caricature of a disaster movie.
The destruction is impressive, but there are only so many times that a plane can outrun falling buildings before it gets a bit yawn-inducing and the consistent stream of things going wrong goes so far over the top by the end as to surf down the other side of the tsunami.
The film is also crushingly long and bombastic to boot. It's hard to care about any of the characters and therefore about their plight. Add to that some badly-judged moments of humour and you are left with a film that just might make you wish for the end of the world just so that it would come to a finish.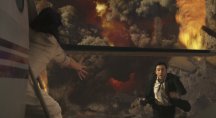 Top
---
Trailer
Top