DVD Release 22nd February 2010
80 minutes approx
Certificate PG







Inspector Poole -
Alastair Sim

Mr Birling -
Arthur Young

Mrs Birling -
Olga Lindo

Gerald Croft -
Brian Worth

Sheila Birling -
Eileen Moore

Eric Birling -
Bryan Forbes

Eva Smith -
Jane Wenham

Written by -
Guy Hamilton

Directed by -
Desmond Davis




Review
The well-to-do Birlings are celebrating the engagement of their daughter Sheila to the equally well-heeled Gerald Croft when Inspector Poole walks in on them and calmly announces that a young woman has died from drinking a mixture of poison and disinfectant. He further ruins the mood by showing how Mr Birling fired the girl from his factory in rather harsh fashion, but that is only the beginning and by the end of this inspector's call the Birling family will never be the same again.
Before crying what is JB Priestley's creaking play about the morality of the upper classes in pre-world war I England doing being reviewed on the SCI FI FREAK SITE, I ask you to consider the Inspector. In the play he is clumsily named Goole and that rather obvious pun should tell you all you need to know about the otherworldliness of this particular inspector. If that isn't enough then the performance by Alastair Sim ought to convince. Apart from his final disappearing act, he invites Eric Birling in before he arrives and is constantly looking at his watch as though time is important to him. He also has a 'I know more than you do' smirk on his face throughout the proceedings (another change from the play where the inspector is something of an angry young man wanting to accuse rather than Sim's wiser head allowing the Birling family all the rope they need to hang themselves). It's a fine, rather unnerving performance that is at the heart of the production and potentially makes it seem better than it actually is.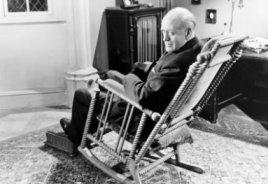 Of course, this artifice is merely a sideshow to the real purpose of the play, which is to shake up the complacency of the upper classes and awaken a sense of us all being in it together after the Second World War. Setting it before the First World War gives it a safe distance and this production is a fairly safe one. It takes what is a stagebound play and keeps it stagebound, only opening it out in the flashbacks to the fate(s) of Eva Smith that take away some of the overwordiness of the stage version.
Apart from Sim, the rest of the cast are competent, but don't manage to make the rather caricatured Birlings more rounded and three dimensional characters. Bryan Forbes drunk act is particularly embarrassing.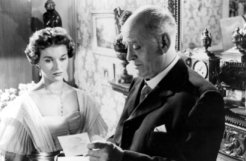 Made in black and white in 1954, this isn't going to appeal to the special-effects fixated youth of today, but for Sims' performance alone it is worth taking the time out. Try it and you'll find yourself sucked in.
Top
---