General Release
162 minutes approx
Certificate 12A




Jake Sully -
Sam Worthington

Neytiri -
Zoe Saldana

Grace Augustine -
Sigourney Weaver

Colonel Quaritch -
Stephen Lang

Trudy Chacon -
Michelle Rodriguez

Parker Selfridge -
Giovanni Ribisi

Norm Spellman -
Joel David Moore

Written by -
James Cameron

Directed by -
James Cameron


Official Site
Trailer

Review
The planet Pandora is a lush forest paradise with an atmosphere that will kill in minutes. It is also home to Unobtainium, which is the most valuable mineral ever discovered. As a result, a corporate operation is currently underway to strip mine the planet. In the way of that operation are the Navi, an indigenous race of humanoids who live in harmony with the planet. The nearest clan's home is right on top of the richest vein of Unobtanium ever seen.
Enter Jake Sully, a soldier who has lost the use of his legs. On Pandora, though, he won't need those legs as he has his mind transferred into an avatar, a half-human half-Navi hybrid. His job is to gain acceptance from the Navi and negotiate their movement to another site. Failing that, he is to provide intelligence on where and how they can be destroyed. The more he learns about the Navi, however, the more he comes to question the motives of the company and himself.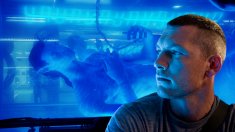 It is our considered opinion that James Cameron couldn't make a bad movie if he tried and AVATAR doesn't make us feel any different. We're getting that out in the open right away because we have so many reservations about AVATAR that we don't want to lose sight of the fact that the film is a thrill ride with some startling, breathtaking images and bravura action sequences. You might fidget for a while in certain places, but it is unlikely that you will be bored.
AVATAR is filmed mostly in CGI. The backgrounds of the alien world are all rendered inside a computer and they are huge and impressive, often beautiful and occasionally outright gorgeous. With the computer at his command, the vision of James Cameron has nothing to constrain it any longer, except perhaps budget, but perhaps not even that considering what the film is rumoured to cost. Pandora is a world so detailed in its creation that it amazes, though the fact that every single thing appears to be luminescent does make it look like an overblown 80s disco at times.
The Navi, however, are another matter. The detailed facial expressions captured for these computerised images are mainly faultless and go a long way to creating believable characters worth caring about, but in mid and long shots they never convince for a second. They just don't move right at all and when they are in the same shot as real humans they jar horribly. By their very nature, they constantly remind that this is a CGI creation (unlike THE LORD OF THE RINGS' Gollum) and make it feel more like you're watching a cartoon than a film, or perhaps more like you're watching someone else play a really expensive video game.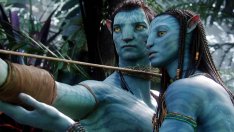 That is especially true when the war between human and alien breaks out. The scale and scope of the destruction is huge, and orgiastic revelling in mechanised devastation that is at odds with the environmental message. Even the leader of the humans, Stephen Lang, plays his security head like the villain from a poor manga comic strip. And since all of the creatures being killed are CGI there is less resonance than there really ought to be.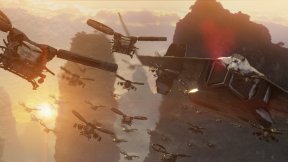 It's hard to judge performances, since they are mostly half-animated, but Sam Worthington sounds a hell of a lot like Mel Gibson as our hero. He gets lumbered with a terrible, and not really necessary, voiceover and struggles with the leaden dialogue at times just as the rest of the performers do. Sigourney Weaver doesn't do a whole lot better with a thinly written irritable scientist in charge role. Zoe Saldana's entire role is motion-captured and is the only Navi who comes anywhere near gaining real empathy from the audience.
The plot is simplistic and lifted from the likes of A MAN CALLED HORSE, DANCES WITH WOLVES, THE EMERALD FOREST and even the ewok battle in RETURN OF THE JEDI. Predictable doesn't even begin to cover it, but the plot isn't what this film is about. AVATAR is about creating a whole new world of wondrous sights and sounds and then blowing it all to hell on as huge a scale as can be achieved. In terms of visual eye candy you certainly get your money's worth in either 3D or 2D, but you just might feel that you're missing something important as you walking blinking back into the lights of planet Earth.
Top
---
Trailer
Top