General Release 2008
90 minutes approx
Certificate 12A





Toorop -
Vin Diesel

Sister Rebeka -
Michelle Yeoh

Aurora -
Melanie Thierry

Gorsky -
Gerard Depardieu

High Priestess -
Charlotte Rampling

Finn -
Mark Strong

Darquandier -
Lambert Wilson



Directed by -
Mathieu Kassovitz

Written by -
Eric Besnard



Official Site
Trailer


Review
Toorop, ex-mercenary, ex-people trafficer, exile from the USA and all round hard nut takes on one last job for a huge wedge of cash. All he has to do is to sneak one girl and her chaperone out of Kazakhstan and into New York City. Simple enough, except for the various border guards and immigration teams that stand in their way. Not to mention the two armies of killers who seem to have their own, but opposing agendas. Keeping Toorop alive isn't one of them.
It's a dystopian future. Is there any other kind in science fiction these days. Everyone outside America is poor and life is cheap and the rule of law has broken down. It also snows a lot. As far as backgrounds go, we've been here, done that and probably bartered a goat for the T-shirt. It's a world borrowed from who knows how many other future movies and the background isn't all that's been borrowed.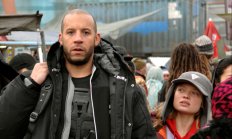 The plot feels like a hand-me-down from, for example, CHILDREN OF MEN, but borrows ideas from all over. There's a little MAD MAX in the broken down future, most especially the cage-fighting settlement. Artificial animals get taken from BLADE RUNNER. The over advertised world of New York is informed by MINORITY REPORT. And so it goes on. This familiarity, however, doesn't make it any less muddled. There is so much that isn't explained (or we'd just given up the will to pay attention). Why, for example does the girl have powers - yes she's genetically modified, but only in brain power according to her doctor/creator. Why does the religious order that raised her need her as a symbol of their power? Who's going to believe in a new messiah in times like these anyway? If they're so powerful and rich, why can't they just fly the girl in on a commercial airliner? If she can withstand a missile attack why is labour so hard for her? What is the significance of the children?
The action, also, is muddy and difficult to follow. Each fight is edited with really fast cutting, but this just messes things up rather than energising them. Only in what is presumed to be the final fight does it reach anything worth paying attention to, but then it goes and adds on an extra twenty minutes and whole other fight that really just isn't needed, leaving the film with a real sense of anticlimax (which is surprising since there is no climax to speak of anyway.
There was a time, just after THE FAST AND THE FURIOUS and PITCH BLACK when Vin Diesel was touted as the new Arnold Schwarzenegger, heir to the action throne. Then it all went wrong with a series of poor choices and BABYLON AD certainly isn't going to buck that particular trend. Sure, it only requires him to growl and look mean, but he can't even do that convincingly. Michelle Yeoh manages to bring a sense of honour and heroism to her unconventional nun that it comes as a surprise when the character turns out to be a little more morally suspect than expected. And Melanie Thierry makes for a very unimpressive most important woman in the world. Cameos from Gerard Depardieu, Charlotte Rampling, Mark Strong and Lambert Wilson are hardly worth the effort.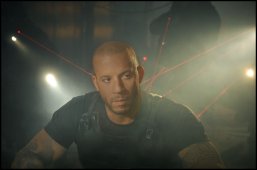 BABYLON AD is not so much bad as just tired. There is nothing here that hasn't been done before, and better, elsewhere a dozen times. Even as a bit of mindless action entertainment, it falls short.
Top
---
Trailer
Top