Review
Coraline is bored. Her parents are busy working on a writing project that might make them some money and so they don't have time for her. The circus performance who lives upstairs is training mice to dance and is clearly bonkers. The two aged actresses who live downstairs are as dotty as they come and the only person her own age is a really annoying boy with an even more annoying cat. When she finds a secret door, then, she doesn't hesitate to go through and finds herself in another place where she has another mother and another father, both of whom have time only for her. He writes songs and plants gardens in her honour whilst she cooks wonderful food and makes bright clothes.
The thing is that they have buttons for eyes. And that's not all. Whilst the alternative neighbours all try to win Coraline's favours, she becomes aware that something isn't quite right here, not everyone is as happy as they seem and there is a plan regarding her own eyes and a shiny pair of buttons.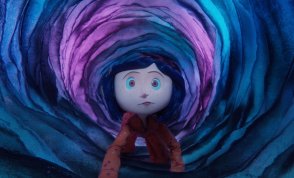 CORALINE is a stop-motion animation work very much along the lines of THE NIGHTMARE BEFORE CHRISTMAS, THE CORPSE BRIDE and JAMES AND THE GIANT PEACH. This is no bad thing because this trio of films brim over with energy and life and invention and so does CORALINE. When you're dealing with a child's alternative fantasy world then it's going to look out of kilter and be full of imagination and this fantasy world is nothing if not out of kilter.
The button eyes, for example, are deeply disturbing, probably more so for the adults than for the kids in the audience, but be warned that some younger children might find this an altogether too frightening experience (some in the screening we saw were seriously wigged out) especially towards the end which has more excitement and carefully orchestrated action and tension than many an action thriller out there.
The animation is stunning, state of the art for this sort of thing and you very quickly forget that you're watching models that have been moved a tiny step at a time and just get swept up in the story, even though some of the characters look very bizarre (the two old actresses wearing not very much is very bizarre, surreal and again very deeply disturbing).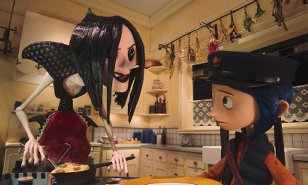 The film is made in the 3D that is rapidly becoming de rigeur for fantasy, but there isn't too much stuff sticking out of the screen at you, especially after the first few minutes once it just gets on with telling the story.
Henry Selick (responsible for both THE NIGHTMARE BEFORE CHRISTMAS and JAMES AND THE GIANT PEACH) does a wondeful job of adapting Neil Gaiman's story for the screen and if the voice cast don't stand out specifically, that's because they're serving the characters rather than themselves. Coraline is a fine leading character, sparky, independant, but also loyal and determined. OK, she's also a bit spoiled but then what kid isn't?
For family entertainment quality, you're going to have to go a long way to beating this, at least for those slightly older kids.
Top
---
Trailer
Top