General Release 2008
85 minutes approx
Certificate 15





St Georges -
Lambert Wilson

Elisa -
Linh Dan Pham

Cesar -
Dominique Pinon

Charon -
Gerald Laroche

Persephone -
Simona Maicanescu



Directed by -
Marc Caro

Written by -
Pierre Bordage and Marc Caro



Trailer


Review
On a distant spacestation orbiting a planet that is the very definition of Hell, a small team of doctors and security guards keep an eye on the worst mentally disturbed serial killers in existence. An arriving shuttle brings a new geneticist with a bag full of new treatments and a stranger whose time in suspended animation has left him disoritentated and confused. The stranger, labelled St Georges by the inmates, proves to have strange abilities, abilities that even he does not comprehend. Under his influence, the inmates start to lose their mental instabilities, but not before one of them sets the station on a collision course for the planet.
DANTE 01 is allegorical. It must be to have characters all named from mythology and to make so little sense. It's not a lack of ideas that is the problem, but rather a surfeit of them, all mangled together into a choppy narrative that is submerged under a tidal wave of visual tricks from the director Marc Caro. This is the same Marc Caro who helped make DELICATESSEN a bizarre comedy delight and THE CITY OF LOST CHILDREN a magical fable. Clearly visuals are Marc Caro's strong suit because DANTE 01 is full of stunning visuals, but they are not visuals that serve the story. In fact, the subjective camerawork has a way of pulling the audience out of the story. It's a director saying 'look how clever I can be'.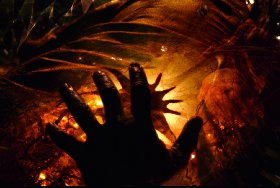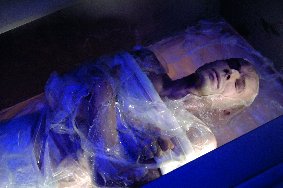 Clearly the script must have made sense because Caro has manged to gather himself a fine cast, headed by the always good Lambert Wilson, an excellent actor who is surprisingly shorn of dialogue as completely as he is shorn of hair. Dominique Pinon is makes up for his lack of stature to make a compelling head thug whilst Linh Dan Pham is an icy control freak who ought to be bedded down with the inmates rather than the doctors.
The prison setting, shaved head and yellowish palette puts one in mind of ALIEN 3, a useful shorthand as it sets up the scene nicely. The seemingly linear arrival of the new doctor lets us know where we are and what the set up is, but then St Georges is brought out of suspended animation, throws up and things go downhill. There's something about the evil within us being something like a tentacled monster that St Georges can see and devour bloodily. There's something about nanotechnology that injects something that looks just like this tentacled monster deep within individual cells. There's something about an oppressive regime, watching over every move. The films settles down for a few moments whilst inmates and doctors fight to save themselves from crashing into the planet, whilst the worst of both sides makes an abortive run for it in the shuttle. Finally everything is sort of resolved by St Georges pulling a 2001- A SPACE ODYSSEY acid trip to save the station and possibly create the Earth.
We say 'possibly' because nothing is clear. It is telling that the documentary maker has to ask both writer and director what the film is about and gets an answer something along the lines of 'it is up to each person's imagination'. Hmmm. We have nothing against films that make you think, love them in fact, but there is a very real difference between intelligence and incoherence and DANTE 01 is on the wrong side.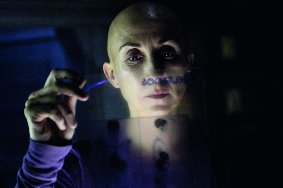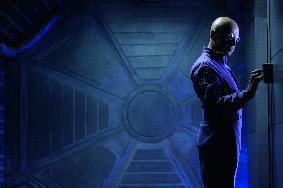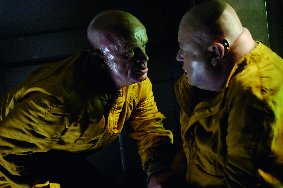 Top
---
Trailer
Top