Review
It's a year since Batman's reign of terror started to curb the operations of the gang lords that previously ran Gotham city. Now the last few major players have come together to find a way to maintain their dwindling money supplies. They are offered the solution by a man with a mangled face and even more mangled pysche who likes to hide his disfigurement underneath clown paint. He calls himself the Joker and he is going to make Gotham City burn until the populace themselves will cry out to hand Batman over to him.
When BATMAN BEGINS was released we thought that it was probably the best superhero film of all time. We were wrong because THE DARK KNIGHT raises the bar again - and not just by inches. Topping this is something that the directors slated for the upcoming slew of superhero movies will have sleepless nights about forever.
What is most remarkable about the film is that it is so uncompromisingly its own animal. Whilst supplying all the action and pyrotechnics that we expect from our screen superheroes, the film is all about its twisted trio of heroes and villains.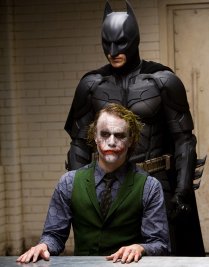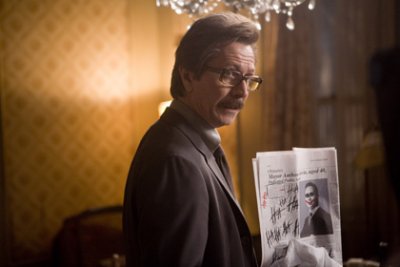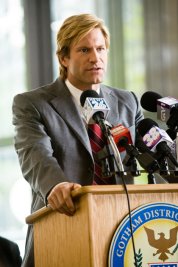 What makes a hero a hero and a villain the bad guy is the core of the film. The Joker has no plan, has no grand scheme, has motivation other than rage. He is a creature that hates himself so much that he tears down anyone he perceives as being better than him (which is pretty much everyone in the city) to their basest level to reveal the monster that is within us all. Thus there are a series of 'games' in which he challenges the city's populace to turn upon itself for survival. Harvey Dent, the shining hero that Bruce Wayne hopes will make Batman no longer necessary, is turned into the psycho killer Two-Face whilst Bruce Wayne himself is tortured by what he will be forced to become in order to defeat a wounded beast like the Joker.
That is some serious kind of subtext and it needs a great script to carry it off. Fortunately, director Christopher Nolan and his brother Johnathan have written just such a script. It may play on the 'make a Sophie's Choice' idea a little too often, but that's a carp in an otherwise astonishingly bravura melding of comic book action and character deconstruction. To do it justice, there needs to be a great cast, but Christopher Nolan has that as well. Christian Bale is steady as a rock as Bruce Wayne/Batman, underplaying the pain that the hero is forced to endure by his nemesis except when...ah but that would be telling. His firm base allows the late Heath Ledger to take off and go stratospheric as the Joker. If you thought the Jack Nicholson version was disturbing then this performance is going to give you nightmares. The Joker's origin is never revealed (though he has some stories about himself) which leaves him an enigma, an enigma fuelled by rage and a desire for chaos, but backed up by a fierce intelligence. He is simply the scariest villain that a comic book hero has ever faced off against on screen. Aaron Eckhart completes the trio as Harvey Dent, a slightly stuffy, but very real hero who is dealt a terrible blow that turns him to rage and violence himself.
Gary Oldman, Morgan Freeman and Michael Caine all give their usual sterling support whilst Maggie Gyllenhaal takes on the thankless role of Rachel Dawes.
From the opening bank heist to the final confrontations by way of some devastating twists and stunning set pieces, THE DARK KNIGHT ignites a summer that has been lacklustre at best. This is the film of the year so far and it's in a different league to what's gone before it. The bar has been set so high it's hard to see how anyone's going to match it.
Top
---