Review
A sudden outbreak of vampirism left the human race turned into bloodsuckers with only a few normal human beings left alive. Those that are lucky are on the run, constantly in fear for their lives. The others are held in comas in blood bank facilities, being drained of their blood almost as quickly as their bodies can replace it. Ed is a reluctant vampire, one who was turned against his will and now he refuses to drink human blood and works every day looking for a synthetic substitute that will allows the vampires an alternative to the enslavement and eventual wiping out of the last few humans. Then, he finds something more dramatic - the promise of a cure.
Just when you thought that the recent glut of films, TV shows and books featuring every kind of Dracula clone had exhausted the possibilities of the genre for anyone other than pining teenage girls, along comes DAYBREAKERS with a completely fresh new angle. Turning the vampires into the dominant species and having their food supply running out brings up some interesting concepts, not least the obstacles to everyday living such as cars that can be driven in daylight and coffee shops that lace their drinks with ever decreasing amounts of blood. The blood shortage leads to blood riots and to vampires descending into some kind of animalistic feral being that even other vampires want to see destroyed.
Unfortunately, the originality of the set up doesn't extend to the rest of the plot. There's a giant untrustworthy corporation planning to rule everything through its blood monopolies, a few humans on the run and a cure that could save the day. These are all things that we have seen too much of too often and the performances from Sam Neill and Willem Dafoe are equally things that we have seen them do before, virtually phoned in on the day.
Ethan Hawke, on the other hand, has an intensity that fits the role perfectly, although he is turned into a one-size-fits-all hero by the end.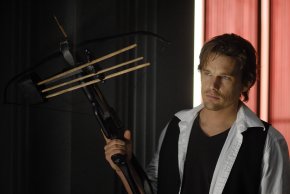 If the ideas run out long before the end, the blood doesn't. The action sequences are perfectly functional and the claret stuff flows in abundance, especially in the orgiastic ending where the cure is released into the headquarters of the shady corporation. If you like your vampires ripping people's throats out then this is the perfect antidote to the likes of TWILIGHT.
The film also looks great with some moody filming and a nicely cold colour palette that warms up around the humans.
DAYBREAKERS isn't breaking any barriers in originality terms, but as a bload-soaked vampire action movie it's perfectly serviceable.
Top
---