Review
The original PIRATES OF THE CARIBBEAN was a wonderful delight; a surprising, light, frothy concoction that succeeded against all the expectations (it was a a pirate film after all).
Now comes PIRATES OF THE CARIBBEAN:DEAD MAN'S CHEST, a sequel in which everything is bigger and nothing is better.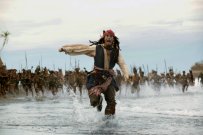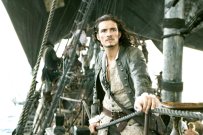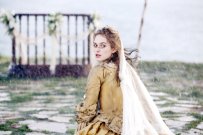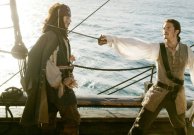 On their wedding day, Will Turner (Orlando Bloom) and Elizabeth Swann (Kiera Knightley) are arrested for aiding and abetting the escape of known pirate Captain Jack Sparrow (Johnny Depp). Will is given the choice of finding Jack and getting his magical compass or both of them going to the gallows. Elizabeth isn't one to take this sitting in prison, so she escapes and goes after him. Captain Jack has his own problems. 13 years ago he sold his soul to Davy Jones (Bill Nighy) to be the captain of the Black Pearl and the time has come to pay up. What follows is a chase for the one weakness that Davy Jones actually has, a locked chest containing his heart.
Everything that was so great about the original film has been carefully identified and removed or bludgeoned to death by CGI monsters, pointless running around and a plot that would be stretched at half the films's running length. Whole sequences could be removed without affecting the plot one little bit (stand up you cannibals) and the action sequences (mainly involving things that roll for some reason) go on and on to no real effect.
The tone of the first film, which was playful and light, has become leaden and ugly, with a cruel edge. All the minor characters are unpleasant to the point of being unnecessarily so, not just the fishy villains but everyone.
Johnny Depp is back as Captain Jack Sparrow, the world's favourite drunk pirate, but the pantomime act that enthralled in the original contains only a few moments of memorable comedy this time around. Kiera Knightley is neither as stunning nor as stunning as before and Orlando Bloom was the one disappointment from the first film, so he he is the only member of the cast who doesn't get worse. Bill Nighy is the squid-faced Davy Jones, but his performance is so buried under the CGI that anyone could have played it to equally mediocre effect.
There is, in fact, so much CGI in this film that it overburdens the whole plot. When the Kraken appears for the second time (exactly as it did the first) you'll probably be looking at your watch and hoping that there isn't much more to go. Sadly, there is a whole third film, World's End. It surely can't be as rambling, unfocussed and just plain dull, as this. Or at least we sincerely hope it can't.
Top
---
Trailer
Top