General Release 2008
87 minutes approx
Certificate 12A





Will -
Matt Lanter

Amy -
Vanessa Minnillo

Calvin -
Gary 'G Thang' Johnson

Princess -
Nicole Parker

Juney -
Crista Flanagan



Directed by -
Jason Friedberg and Aaron Seltzer

Written by -
Jason Friedberg and Aaron Seltzer



Official Site
Trailer


Review
Will, a young man with committment issues, defies the disasters befalling the city to save the woman that he loves, even though he has found it hard to tell her.
Some things ought be forbidden by law. Barely have we recovered from the hell on earth that was SUPERHERO MOVIE than we are afflicted (and yes that is the right term) with DISASTER MOVIE, a so-called spoof of, surprise, surprise, disaster movies.
Except that it's not. A spoof takes something and then makes fun of it with jokes and pastiches and amusing asides. This film merely trots out a string of images taken from other recent movies. These are not funny and don't have anything to new to say. The only fun that there can be in watching this is counting up how many of the references you get and how many of the films/tv shows you have seen, but it doesn't take long for the will to live to seep away so that even that is not possible.
The cast of unknowns and z-list celebrities (Carmen Electra have you no shame?) make no impact, but why should they be any different from anything else in the film?
If the future means watching more films like this then bring on the end of the world right now. The sooner the better.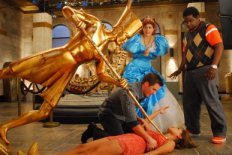 Top
---
Trailer
Top