General Release 2006
104 minutes approx
Certificate PG





Eragon -
Ed Speleers

Brom -
Jeremy Irons

Araya -
Sienna Guillory

Durza -
Robert Carlyle

Galbatorix -
John Malkovich



Directed by -
Stefen Fangmeier

Written by -
Peter Buchman



Official Site
Trailer


Review
In a world suffering at the hands of an evil king, a young farm boy comes into possession of the last dragon egg in existence. A few days later, the dragon Saphira is a full-grown, but inexperienced female and both she and Eragon have bonded. Both will have to learn the possibilities and limits of their new relationship quickly because the King's wizard assassin has sent out all manner of creatures to kill the boy before he and the dragon reach the freedom fighters in the mountains.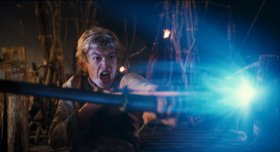 Wow the writers of this film know their STAR WARS. Farm boy hero? Check. Darth Vader bad guy type? Check (Robert Carlyle's sorceror is never as menacing as he can be). Evil Emperor type running things from the background (John Malkovich gets no screen time, but is clearly contracted for bigger things in the sequel). Obi Wan mentor destined to die heroically halfway through (Jeremy Irons looking hangdog rather than tragic). Princess imprisoned in the wizard's lair? Check. Charming rogue who may or may not be trusted? Check.
Still, if you're going to rip off your entire story structure from something it may as well be the most successful film franchise in history. Sadly, where STAR WARS took those clichés and breathed fresh life and vigour into them, ERAGON takes those same clichés and gives them a whole load of half-baked dialogue to stymie even this cast's acting abilities. When John Malkovich states (somehow without cracking a smile) that "I suffer without my stone." you know that you're in trouble.
Not everything here is bad, though. If we start with the special effects, they are pretty good, as you would expect from a film that wants to be the new LORD OF THE RINGS. Saphira, the last dragon is, of course, the centrepiece and she is flawlessly rendered. The voice work by Rachel Weisz should have been the crowning touch, but adds little to the character. The cameraman also has clearly seen LORD OF THE RINGS because the camera whirls around the characters in the centre of wonderful landscapes just like Peter Jackson's classic did to great effect, but here the tactic is overused, instilling motion sickness rather than awe. The landscapes are, when camera stays still enough to look at them, worthy of awe and do give the film an epic backdrop to work against. The final battle is also epic, but is mainly viewed from the back of a dragon in flight and so loses the immediacy of, say, the defence of Helm's Deep.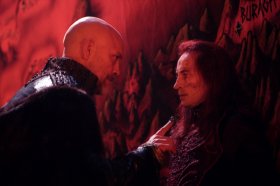 The leads are young and pretty and bland whilst a supporting cast to kill for fail to add colour or spice because of the script. As a result, ERAGON passes the time adequately, but remains a film that, unlike its main characters, never learns to fly.
Top
---
Trailer
Top