2005
106 minutes approx
Certificate PG



Reed Richards -
Ioan Gruffudd

Sue Storm -
Jessica Alba

Johnny Storm -
Chris Evans

Ben Grimm -
Michael Chiklis

Victor Von Doom -
Julian MacMahon


Written by -
Mark Frost and Michael France

Directed by -
Tim Story



Review
FANTASTIC FOUR, is Marvel Comics' hope of the year, looking to cash in on the success of the X-MEN and SPIDER-MAN franchises, going up against the other superhero big hitter DC Comics' BATMAN BEGINS. Trouble is that for every one of those successful franchises there is a DAREDEVIL, ELEKTRA or (whisper it) CATWOMAN. Fortunately, FANTASTIC FOUR is not one of these. It's no BATMAN BEGINS either, but that's OK because it really isn't trying to be. FANTASTIC FOUR is a day-glo wham-bam thank you ma'am funfair ride a million miles removed from Christopher Nolan's angst fest.
The plot (for the non comic book obsessives amongst us) follows a group of intrepid scientist/astronaut types who take a trip into space funded by a rich businessman to study a cosmic storm that will soon passing Earth. This storm, you understand, is just like the one that kick started life on our planet and so may yield up vital secrets about the human genetic makeup (not mention lots of new pharmaceutical patents). Unfortunately, things don't quite go to plan, they all get irradiated by the storm and start gaining superpowers. Unfortunately, not all of them take too kindly to this.
Reed Richards (Ioan Gruffudd) turns into the ultra-stretchy Mr Fantastic (see Mrs Incredible in THE INCREDIBLES), Sue Storm (Jessica Alba) is able to project forcefields that can also make her invisible (see Miss Incredible in THE INCREDIBLES), her brother Johnny (Chris Evans) is able to burst into flames and fly and Ben Grimm (Michael Chiklis) turns into a superstrong rock monster known as the Thing. At the same time, their financier Viktor Von Doom (Julian McMahon) is turning into an electricity-absorbing metallic man with even more delusions of grandeur.
This is, of course, the origin story of the four who would be fantastic and so there is quite a bit of exposition and character stuff going on before the action really kicks in. This is not necessarily a bad thing, but director Tim Story does seem to be in a bit of a hurry to get through it all. We have Reed and Von Doom in a love triangle with Sue Storm, Reed's ex with a whole history behind them. Johnny and Grimm really don't get along, one being a childish, self-promoting playboy type and the other a reliable man with a sense of duty. Von Doom's business is in trouble with the financiers threatening to pull out and Reed can't even get the financing together to pay his electricity bill. With all that going on, cosmic ray-induced superpowers are a sure way to raise the already amped-up interpersonal relationships. None of this is very convincing, but the chemistry between the four leads is there, especially the sparring between Johnny and Ben, which produces all the best dialogue lines.
The actors do pretty well with a deeply average script and plot. Ioan Gruffudd is the straight man who gets to look all tortured and noble, Chris Evans plays recklessly cool with ease, Michael Chiklis is memorably affecting despite being covered in the (admittedly effective) Thing suit and Jessica Alba is the feisty heart of the team (not to mention looking fabulous in spandex throughout). Julian McMahon's Viktor Von Doom, however, is an underwritten and faxed in copy of Willem Dafoe's Green Goblin from SPIDER-MAN. Driven head of a multi-billion dollar industry that is going through hard times who finds that new powers and a mask are all that are needed to unlock the psycho within, this is a villain that would have had Marvel Comics suing for breach of copyright if they weren't responsible for the copying themselves.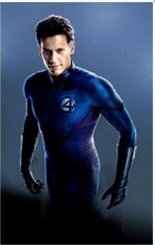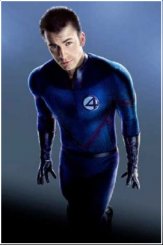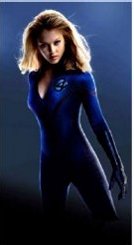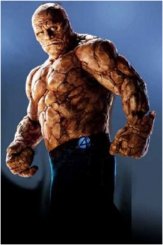 The special effects are a mixed bag, mostly thanks to the stretchy nature of Reed's power. Some of the CGI stretchy comes off OK, but some of it looks pretty fake and Johnny Storm's human torch routine only passes muster because he moves so fast that you can't really keep up with him to rate the CGI. The spacestation sequence at the start of the movie, though is pretty spectacular and does convey some of the awe that astronauts must feel when looking down on their home planet. The lowest tech effect also proves to be the most effective one and that is the suit that turns Michael Chiklis into the Thing. It allows the actor to bring out the character whilst never failing to convince.
The measure of any superhero film, though, is the action. There's not a lot in FANTASTIC FOUR, but when it comes it's a good deal of fun. There is a pile up on a bridge that starts off funny and turns into a rip-roaring sequence and the final showdown as the four take on Doctor Doom is also great fun, but leaves you with the feeling that there really ought to have been more of it (something that was also true of the original X-MEN). Having a villain as weak as Doctor Doom turns out to be is also no help. He develops his powers at the same rate as the four and so is no threat until towards the end and the fact that he's out to get them because he fancies Reed's girlfriend doesn't make for the best motivation.
There's a lot of flaws in FANTASTIC FOUR, but it sets out to be a fun, bright, entertaining romp. It succeeds admirably, but I don't think that the BATMAN BEGINS team will be losing any sleep. The potential, though, is there for a better sequel.
Top
---