General Release 2009
83 minutes approx
Certificate 15





Don -
Robert Carlyle RayDon -
Chris O'Dowd
TobyDon -
Marc Wootton
PeteDon -
Dean Lennox Kelly
CassieDon -
Anna Faris
MillieDon -
Meredith MacNeil



Directed by -
Gareth Carrivick

Written by -
Jamie Mathieson



Official Site
Trailer


Review
Ray is a loser who has just been fired from his dead end job. Toby and Pete are also losers, but at least they still have jobs. Ray is a self-avowed science fiction geek with a specific thing about time travel, so that night in the pub when he comes back from the bar with a story of meeting a pretty girl from the future, his friends laugh it off. That is until Pete goes to the gents and emerges in a future where everyone in the bar is dead. What follows is a night of time-travelling capers in which the trio try to avert this terrible event and keep on making matters worse.
FREQUENTLY ASKED QUESTIONS ABOUT TIME TRAVEL comes across as an episode of RED DWARF writ large. As RED DWARF is one of the few truly funny pieces of science fiction comedy ever produced this should not be taken as a criticism but rather as a compliment. Opening with some wonderfully cheesy 70's credits and big special effects, it quickly pulls the rug out from under all that to settle into the tale of three amiable losers down at the pub. From there on, all the action takes place in about 4 sets (pub bar, pub lounge, pub toilets and pub garden). All the money, it seems went into the two big special effects moments (one being the opening and the other being...well that would be telling).
The pitch is simplicity itself, but there's very little narrative thrust here. The trio don't have a purpose upon finding the time rift - they just bounce through various times trying to put right the escalatingly catastrophic results of their meddling in their own futures and avoid the one possible future where they are all dead following a massacre. This is a series of sketches strung together to make a film
Fortunately, the sketches are generally funny and the performances are very likeable. The three guys are amiable companions on the journey and certainly make the most of the witty dialogue they are furnished with, although it would be nice to see some British sci-fi in which the heroes weren't a bit, well you know, naff. Anna Faris adds the name for the American audience, although her role could have been done by anyone and possibly better. She is, at least, inoffensive.
This is a good friday night movie to see with some mates, but see it before you get a few too many pints in you or the time mangling plot might get a bit confusing. One thing is absolutely sure - after this you won't look at the pub toilets in quite the same way ever again.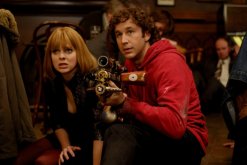 Top
---
Trailer
Top