General Release 2007
114 minutes approx
Certificate 12A





Johnny Blaze -
Nicolas Cage

Roxanne Simpson -
Eva Mendes

Caretaker -
Sam Elliott

Blackheart -
Wes Bentley

Mephistopheles -
Peter Fonda



Directed by -
Mark Steven Johnson

Written by -
Mark Steven Johnson



Official Site
Trailer


Review
Johnny Blaze is a stunt rider, the kind of man who thinks nothing of leaping over six helicopters with their rotors turning. He is a daredevil without fear. This lack of fear comes from a mistake he made when he was young. He sold his soul to the devil in order to save his father from cancer. The devil obliged, but in a typically disagreeable fashion and now Johnny waits for the devil to come and call in his due.
This he does when the son of the devil, called Blackheart, rises up from wherever devil's sons rise up from and goes in search of a contract that will deliver thousands of lost souls into his power. With these, he intends to take over the earth from his father.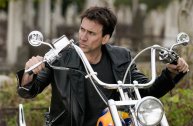 There are a good many bizarre heroes in the Marvel comics' universe, but few of them can be as perverse as GHOST RIDER. Sure the image on the page is cool, but an undead hero with a flaming skull? Some things that look great in the pages of a comic book just don't translate to the screen and this is the case with the devil's bounty hunter. The effects are, of course, extremely well done, but there is just something intrinsically unbelievable about the way that he looks that is impossible to overcome. It doesn't help that the rider himself, when not in human form, is a completely charisma free character. There is, of course, no expression, but he is given leaden dialogue that does him no favours at all.
Nic Cage plays the human alter-ego of this demon. He's not having a good time of it at the moment, his last film having been the distinctly underwhelming THE WICKER MAN. He does have a lot of charisma and fights manfully to save the film, but is fighting a losing battle. Eva Mendes plays his love interest and uses a series of push up bras and tight dresses to distract from her acting.
The real problem here is the plot. Where did it go? It's an origin story to be sure, but that is no excuse for such a limp tale. Wes Bentley makes for such a wimpy enemy that there is no action to speak of, even in the final showdown, and his elemental servants prove to be just as pathetic. Without truly impressive enemies, the hero can't be truly impressive either. This, of course, didn't stop THE FANTASTIC FOUR from making enough money for the impending sequel. Even the devil himself proves to be disappointingly unimpressive thanks to Peter Fonda's phoned in performance.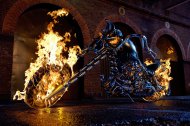 This is likely to mark the end of the Ghost Rider franchise, so fans of the hero need to make the most of what meagre fun it offers. The Hellcycle is still the coolest ride around and there is a bright and breezy tone about the early parts of the film that is at odds with its later subject matter. Surely the tale of a tormented soul should be more worthy of the dark treatment of the Batman franchise than this jaunty style.
GHOST RIDER is unlikely to light your fire unless you really are a big fan of the comic and fairly undemanding.
Top
---
Trailer
Top