Review
Lyra lives in Oxford, but not our Oxford. Lyra's Oxford is in a parallel dimension where people's souls live outside their bodies in the shape of animal familiars known as daemons. What hurts human hurts their daemon and vice versa. In this world, the Magisterium holds sway and has declared that a mysterious substance called Dust must never be spoken of, so when Lord Asriel announces that he is going to travel to the north to study dust and find a way to use it as a bridge to the other universes, they are not well pleased.
Lyra has more mundane worries. Children are going missing and the latest disappearance is her friend Roger. She only knows this because her supposed friend and guardian Mrs Coulter is head of the group that is stealing them and sending them to the north to experiment on them. When she escapes from Mrs Coulter, Lyra is helped by the Gyptians, who have lost many children to the Gobblers (so-called) and want them back. She also befriends a balloon-riding cowboy and an armoured polar bear who turns out to be the deposed king of Svalbard. With the aid of th witches, this band will take on the might of the Magisterium to rescue the children from a fate that is worse than death.
Expectation is a strange thing. When it is low it causes delighted surprise, but when it is high it can make something good seem poor. THE GOLDEN COMPASS is good, but it should have been so much more, considering the source material.
THE GOLDEN COMPASS is the first book in Philip Pullman's astonishing His Dark Materials trilogy (known in the UK as Northern Lights) and the new hope for New Line Cinema in creating a new LORD OF THE RINGS size fantasy success after both THE LION THE WITCH AND THE WARDROBE and ERAGON failed spectacularly to fill that hole. Whilst it might succeed financially, it fails to live up to the Peter Jackson masterpieces on almost every artistic level.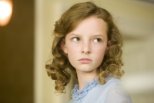 Visually, the film is stunning to look at and the characterisations are spot on, the actors having been picked with great care as many of them don't get the screen time that they ought to. Daniel Craig makes for an heroic and mysterious Lord Asriel, as he should, but is barely on screen after the first ten minutes. Nicole Kidman is cold and elegant as Mrs Coulter, who comes to take Lyra away from her home, but she lacks the true sinister nature of a great villain. Derek Jacobi shows her how it's done in barely two scenes. Christopher Lee gets about one line. Sam Elliott is a great, crusty old gunfighter, but it's mainly because he looks the part as he doesn't get that much chance to play it.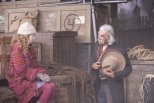 Which brings us to Dakota Blue Richards as Lyra. She is the centre of the film and manages to hold it without ever really shining, but never becoming annoying in the way that child characters can. Why she inspires devotion in almost everyone she meets isn't quite evident, but doesn't undermine the film.
The real stars here, and probably the reason why the film was made at all, are the armoured polar bears. Rendered by flawless CGI (BEOWULF please take note) they are really impressive and in the case of Iorek Byrnisson, voiced by Ian McKellen, a real character. When they are on screen, the film soars.
THE GOLDEN COMPASS is the first book in a stunning fantasy trilogy that has been filleted of all the controversial material (the Magisterium is clearly a comment on organised religion and the later books get heavy into metaphysics and philosophy, but in a really good way) and turned into an acceptable adventure story that will please the kids and not annoy the parents. It is a missed opportunity to create a truly adult fantasy to rival Frodo's journey.
Top
---
Trailer
Top