Review
In Central Park, New York, a young woman stabs herself in the neck with a sharp hairpiece. Nearby, construction workers throw themselves off the roof of the building they are constructing. Panic sets in quickly as the word of a terrorist bio-strike spreads. People from other towns head for the hills and safety, but as smaller and smaller communities get hit it becomes clear that this is not a terrorist attack and that the open countryside is perhaps the very last place that anyone wants to be.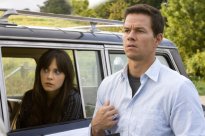 The SCI FI FREAK SITE has a lot of time for M Night Shyamalan. THE SIXTH SENSE is one of the spookiest films ever made and UNBREAKABLE is the most intelligent and adult superhero story ever made. SIGNS and THE VILLAGE were both only OK, but both of them had moments of extreme scariness. Then it all went horribly wrong with THE LADY IN THE WATER, Shyamalan's fairy tale story that really didn't have an idea what it wanted to be and so nobody else what to make of it either.
well, it's back to basics with THE HAPPENING - no twist in the tail perhaps, but a spooky tale with some very scary moments.
Let's start with the opening in which the residents of New York go on a suicide spree. This is a wonderfully evocative sequence. The impersonal crunching sounds as human beings smash into bricks and concrete is horrible. The suicide sequences are all the best moments. There's the progressive use of a police officer's gun and the events surrounding the arrival of one small group in another town to find that they are already too late. People deliberately hurting themselves is not something that we normally come across in our lives and so the sight of so many people doing these things to themselves is deeply disturbing.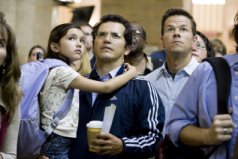 After that, the film turns into a survival story and as such is a lot less effective. There's the initial 'what's going on?' feeling, followed all too quickly by one character laying down the whole plot to another. There's a lot of that - characters explaining the plot to each other in some awfully clunky dialogue that damages the cast's ability to deliver it with any sort of conviction. Add to that Shyamalan's continual filming in severe close up and the actors have nowhere to run, nowhere to hide and some awful lines to get across credibly. And, on the whole, they fail. Mark Wahlberg does what he can and comes off the best, but Zooey Deschanel (having a good year considering that TIN MAN was shown in the UK the month before this opened) does little more than look wide eyed in confusion or wide eyed in fear.
As you would expect, civilisation falls apart at a fair rate with the characters having to deal with shotguns and scary old ladies as well as their own ability to help their fellow man when the wind starts blowing.
It's the old Gaia theory, you see, that if you do enough damage then the planet will fight back. It's not a new theory, but it provides a good enough backdrop for the story.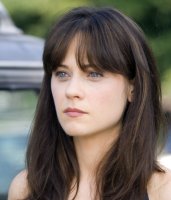 And then it all just stops. There is no climax to the film. It just fizzles out and leaves you wondering what the hell happened. When your enemy is the whole planet then it's pretty hard to come up with a dramatic fight back. As a result, the audience leaves feeling deflated and let down, but with several scenes lodged in the memory that just might come back to haunt them.
Top
---
Trailer
Top