Review
Bruce Banner was a brilliant young scientist working on advanced anti-radiation techniques for the military. Now he's hiding out in South America, on the run and relentlessly pursued by General Thunderbolt Ross, the man he used to work for and the father of the only woman that he ever loved. The anti-radiation project that he was working on was really part of a larger effort to produce supersoldiers. An accident in the lab caused an overdose of gamma rays for Banner with the result that whenever he gets angry he turns into a giant green monster with a lust for devastation. General Ross wants that monster so that he can experiment on it. Banner just wants to get rid of it. Now, however, there is a chance of a cure, but it means that Banner will have to go home and risk capture.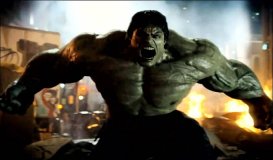 THE INCREDIBLE HULK is one of Marvel Comics' more unique creations and also one of the more problematic ones to dramatise. Sure a giant green man with the strength to throw armoured tanks around is a gift for big screen destruction, but he comes with a high angst factor. The man who becomes the monster just wants to be normal and the monster just wants to be left alone. This existential core of the story was what Ang Lee tried to concentrate on in the first big screen outing for the monster, but wasn't able to balance it with the big screen popcorn destruction. The TV version also played up the tragic angle because they couldn't afford the destruction.
This new version, then has a few inbuilt problems to overcome. Unfortunately, it doesn't quite succeed.
The human drama is the aspect that works the best. When you have an actor of Edward Norton's calibre at the centre of the story then you can be sure that he can carry off all the emotional stuff that is required and to be fair not all that much is required of him beyond looking tortured and soulful. Liv Tyler and William Hurt are given even less to work with as the General and his disaffected daughter, but the biggest waste of talent is Tim Roth's role as the soldier hunting down Banner who comes to want what Banner has. The role is so underwritten that Roth convinces neither as a gung-ho soldier nor as a power-hungry nutter willing to turn into a monster to get a little respect.
The main problem with THE INCREDIBLE HULKis that there is no main plot. Banner doesn't want to be caught and the soldiers want to catch him. Every now and then they find him and there's a battle. That's it. It's a bit like watching someone else play a video game at times, especially when the Hulk and Abomination meet up in the final smackdown.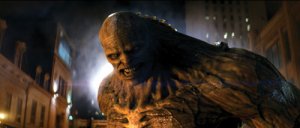 Which brings us to the main main himself. The Hulk in this version is no more believable than the one in Ang Lee's film. He's techically much improved, of course, but never any more believable than the earlier version. The Abmination, when he comes along, is even less so. When you create a powerful hero then there is a question as to what sort of a villain can threaten him and now three of the most recent have just settled for bigger, badder versions of the hero. In SPIDER-MAN 3 there was Venom and in IRON MAN it was a man in a more military iron suit. When you consider how many villains populate the Marvel comics universe it is hard to believe that this is the best they can come up with.
At least the action is good and fast and frenetic. It starts with a rapid race through an unlikely, brilliant setting before Banner finally loses his cool and the big greenie gets a hell of an introduction. The battle with the military hardware in the university grounds is pretty good (although there's a bit too much 'where's that helicopter gunship got to?' going on as each piece of hardware gets introduced) and the final smack down with Abomination is nothing if not destructive.
In the final analysis, THE INCREDIBLE HULK takes a stab at making the fabled intelligent comic book movie and misses the mark, but you won't be sleeping through it.
Top
---
Trailer
Top