Review
Counter-intelligence agent Matvey jumps out of a crashing aeroplane that is rigged with explosives, but doesn't die. He has been set up by his ex-partner Kurylo in order to get hold of the advanced weapons that they were escorting. Kurylo is now a very powerful man, but he is being controlled by the forces of evil and chaos. The Inner Circle, a force for good, contacts Matvey and helps him to become an unstoppable warrior to battle against Kurylo.
Once upon a time the idea of a Russian science fiction action film would have seemed utterly unbelievable. This is the country of THE BATTLESHIP POTEMKIN and SOLARIS after all, not shoot-em-up blockbusters. Then came NIGHTWATCH AND DAYWATCH which blew away the stereotypes. THE INTERCEPTOR goes for the exact same market.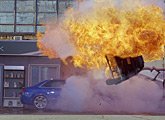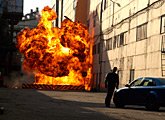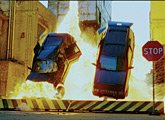 As a science fiction action movie, THE INTERCEPTOR really looks the part. It's beautifully shot whether it's views of the city, the ephemeral temple guarded by the Inner Circle or the tunnels where Matyev trains or infiltrates Kurylo's headquarters. The special effects are also flawless. The temple occasionally looks like an airfix model, but only occasionally whilst the bullet time effects, the Inner Circle's lion and the cityscapes look fantastic.
Unfortunately, it's an incoherent mess, narratively speaking. You know you're in trouble when the introductory written passages don't make a lot of sense. There's the Inner Circle and they're good, that much is obvious. There's the forces of chaos that are apparently scary sentient tendrils that can't be photographed and seem to want nothing more than death and destruction. Kurylo works for the evil and Matvey is on the side of the Inner Circle. So good so far. The stolen weapons are there simply as an excuse for the two to fight over and there are lots and lots of nameless, faceless guards to beat up and to blow up in car explosions.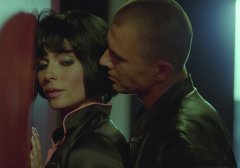 There is plenty of action, with spectacular explosions, car chases and martial arts all over the place, but the director's insistence on continually slowing everything down robs them of some of their kinetic energy and then, when Matvey finally faces off against Kurylo is all goes a bit inexplicable.
There are supporting characters such as a partner, ex-girlfriend now working for the bad guys, press photographer now new girlfriend and disgraced member of the Inner Circle turned mentor, but none of them is fully rounded out and some seem to have no part to play. The presence of a terrorist group known as Stop Crime is also a sideline that goes nowhere.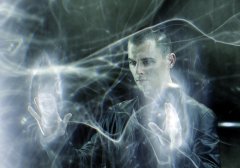 There is clearly a rich mythology behind this film that is worth exploring, but THE INTERCEPTOR just uses it as an excuse for action sequences, leaving the characters mere sketches and the plot muddled and incoherent. Fans of bonkers russian action movies might enjoy, but everyone else is likely to be left simply bemused.
Top
---
Trailer
Top