Review
Needy and Jennifer have been best friends for,like, ever even when Jennifer blossomed into a gorgeous, self-obssessed Queen of the Prom and Needy, well, didn't. One fateful night, a visit to a local gig turns into a nightmare when Jennifer goes off with the band and shows up hours later a bloody mess. Soon after, boys start turning up dead and Needy starts to suspect that the spirit inside Jennifer's body isn't Jennifer at all.
Megan Fox is the apprpriately-named bendy girl from the TRANSFORMERS films in case you didn't know. And you need to know because JENNIFER'S BODY is built around her. The story may focus around the dowdy Needy, but there is no doubt that Megan Fox is the draw. She's the only one who appears on the poster and it was images of her emerging nude from a lake during filming that set the internet alight. JENNIFER'S BODY is really all about Megan Fox's body.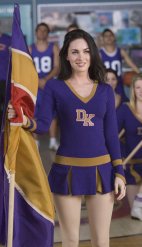 It's also about Diablo Cody's words. She is the writer of the critically acclaimed JUNO, and much of the linguistic styling that made that film a success has managed to cross into what is otherwise a fairly standard, uninspired horror plot. It could, in fact, almost be an episode of BUFFY THE VAMPIRE SLAYER if Buffy had left town for a few days. Dialogue zingers aside and Megan Fox teasing for all she's worth the film doesn't have that much to offer.
The horror isn't all that scary. Jennifer's victims follow her to places they shouldn't go willingly, so there's not a lot of chance for tension and fear to mount. It's also not very gory, so the bloodhounds will find it pretty tame fare. There is some stuff about female bonding and high school angst in there, but that's ground that has been well covered before.
Amanda Seyfried gives a good performance - she's a better actress than Megan Fox on evidence to date - and there aren't any bad ones on show, but the direction is flat and unexciting, leaving the film with a sense of 'so what'.
JENNIFER'S BODY isn't bad, it just isn't all that good either. If you have a thing for the Fox then she's on screen a lot and Cody's dialogue is worth a listen, but this is not for the regular horror watcher and it is hard to see who else that it is going to appeal to.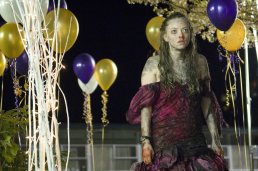 Top
---
Trailer
Top