Review
David discovers at an early age that he can do something that others can't - teleport. One moment he's trapped beneath the ice in a lake and the next he's in the public library. He soon learns that he can 'jump' to anywhere he has seen and then to anywhere he can picture accurately. First up are the vaults of banks that supply money enough for a very nice lifestyle. Then it's surfing in Bali, breakfast on the head of the Sphinx and a quick bunk up in London.
But then there's the girl. Millie was David's high school love (unrequited) and he returns home to find her and take her on a romantic date to Rome. All is going well until British bloke Griffin shows up and points out to David that he is not the only person who can jump, but he is the one currently being hunted by the Paladins, a group of fanatics whose life mission is to find and kill jumpers for the continued security of all.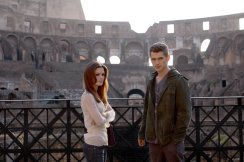 JUMPER comes to the UK on a wave of publicity claiming that it is the film to rejuvenate the science fiction genre in the same way that director Doug Liman did to the action genre with THE BOURNE IDENTITY. It comes as no surprise that these claims are all hyperbole, which is not to say that JUMPER isn't a good film. It is, just not a revelatory one.
Teleporting as an ability is not an overused gimmick at the cinema, but it is familiar from the X-MEN films where Nightcrawler was able to infiltrate the White House with ease. That scene alone was justification for the actions of the Paladins in JUMPER. David might just be stealing money to finance a hedonistic lifestyle, but he could just easily decide to start assassinating the leaders of the world in their beds. Thus, a shadowy agency is hunting down the mutants for fear of what they might do, not what they have done. Sound familiar?
Also familiar is Samuel L Jackson's performance as Roland, head of the Paladins and almost to the point of being phoned in. He can do this sort of menace in his sleep and doesn't add anything to his effortlessly cool schtick to make this any different from anything else he has done.
The youngsters of the cast at least seem to be a whole lot more keen about their roles. Hayden Christensen takes his arrogant, self-obsessed thief and turns him into a likeable rogue, capable as both the vulnerable lover and the burgeoning hero. Rachel Bilson is appealing as love interest Millie, which is just as well as she gets almost nothing to do except be threatened and confused most of the time and Jamie Bell steals every scene he's in as the twitchy, paranoid jumper who has all the answers that David has been looking for.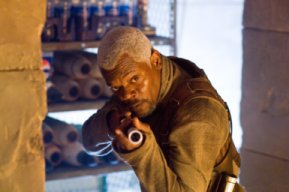 Of plot there isn't a lot. It's an origin story for a superhero, setting up the scene and introducing the hero and the villains and then getting on with the action. It's pacy and frenetic and makes use of the 'jumping' gimmick pretty well, although that can be a little hard to follow at times. The moment when Jamie Bell jumps a bus into the desert is spectacular, but also manages to be the high point of the film and appeared in the trailer.
JUMPER will entertain if you're not too critical, but it has little that is new and really feels like the first part of a trilogy with better instalments to come.
Top
---
Trailer
Top