General Release 2010
117 minutes approx
Certificate 15





Dave/Kick Ass -
Aaron Johnson

Mindy/Hit Girl -
Chloe Moretz

Damon/Big Daddy -
Nicolas Cage

Frank D'Amico -
Mark Strong

Katie -
Lyndsy Fonseca

Chris/Red Mist -
Christopher Mintz-Plasse



Directed by -
Matthew Vaughn

Written by -
Jane Goldman and Matthew Vaughn



Official Site
Trailer

Review
Dave is an ordinary kid whose main interests in life are comic books and girls. The girl in particular is named Katie, but she's not going to look twice at Dave. Taking his interest in comics to the limit, he buys a wetsuit, transforms it into a costume and takes to the street as vigilante hero Kick Ass. His first time out he ends up stabbed and in the hospital for several weeks, but he isn't going to let a little thing like that stop him. He then meets Big Daddy and his daughter Hit Girl, real experts in the masked avenger business. They are out to get revenge on mob boss Frank D'Amico, but their actions get mistakenly attributed to Kick Ass. Now Frank is after Kick Ass and Dave's going to have a hard time just staying alive.
Coming out only a few weeks before the big Marvel release of the year IRON MAN 2, KICK ASS is the perfect antidote to all the superpowered shenanigans of recent years. Taken from the comic book by Mark Millar, it's not a mean-spirited mickey take of the superhero genre, but a look at what a real hero's life would be like without powers. And it's absolutely hilarious.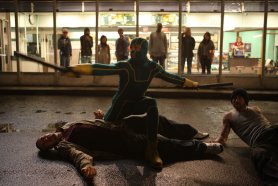 It's also hideously violent. The body count is absolutely massive and the fact that most of them are as a result of the acrobatic gun and blade play of an eleven year old girl isn't going to make it film of the year of any moral majority groups, but the violence is mainly comic book in nature (we certainly don't know an eleven year old who can do those sorts of things and are pretty glad about it) and is more often than not played for laughs. As is the language which is of the strongest order, but again mainly played for the laughs.
Aaron Johnson makes for a very likeable hero, though he doesn't really stand out, allowing Chloe Moretz to steal every single scene that she is in as Hit Girl. Nicolas Cage finally ends his streak of poor movies with a great fun role as Big Daddy, whose superhero voice is clearly a spoof of Christian Bale's Batman growl and is brilliant. Mark Strong rounds out the major cast as brutal bad guy Frank D'Amico who thinks nothing of putting a man in a timber-drying microwave oven to get information.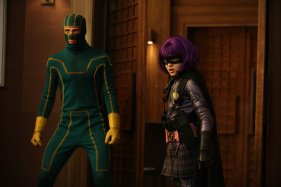 The script by Jane Goldman and director Matthew (STARDUST) Vaughn is sharp, witty and neatly subverts the whole superhero genre, but does so with charm and warmth.
Action, violence, bad language, off-colour humour and possibly the funniest use of the word 'bazooka' ever - what more could you possibly ask for in a film? Whatever it is, chances are that KICK ASS has it.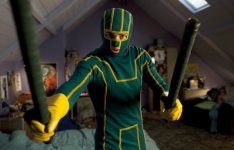 Simply put, KICK ASS is the front runner for our film of the year.
Top
---
Trailer
Top