Review
When man listened to the wisdom of the people from the blue kingdom they were happy, but they moved further onto the land and learned about material things and grew greedy and angry. The people of the blue kingdom did not give up on mankind though. They still send their young ones to meet with important people to inspire them to do great things. Once this is done they can return home, but there are wolves that want to stop the children of the blue kingdom and they will stop at nothing. All of this is about to take place in the back yard of a rundown apartment block in Philadelphia. The janitor is going to discover one of the nymphs and she is going to change the lives of all those that she touches. Only if they can find that which is magical and special in themselves will she be able to return home alive.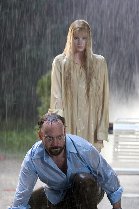 Make no mistake, THE LADY IN THE WATER is a fairytale, a bedtime story, a fantasy, but one that is taking place in the real world and happening to real people. It has a mythology and backstory all of its own, but the characters that inhabit it are the kind of folk you might meet walking down the street.
Like all good fairy tales there is danger and the hint of violence below the surface, there are heroes and villains and people who don't know that they're heroes. It's a delicate web of gossamer thin fantasy strands anchored in the mire of the everyday.
The trouble is that M Night Shyamalan is a teller of darker tales and it is this darkness that keeps trying to break into the story and overwhelm it. Characters are not what they appear to be, they are told that they will inspire great things, but not live to see it, they explain exactly how in the movies they would escape only to be immediately savaged, they have families that are mindlessly wiped out. They hurt and their hurt is real. THE LADY IN THE WATER doesn't know what it wants to be and so it's difficult to really connect with it. It's way to adult for smaller kids whilst adults are going to have problems with the fairytale structure.
It's also hard to connect with the characters as they are all a bunch of oddballs and have no idea what their parts are in the story they are inhabiting. Bryce Dallas Howard struggles horribly with the the role of the nymph who inspires all that see her, but it's not really her fault as she has to be the kind of creature that invokes wonder, but has nothing to do that could possibly invoke anything.
Fortunately, the film has at its heart a powerhouse that prevents it from all falling in on itself. Paul Giamatti. Hell, we would pay money to watch this man recite the Yellow Pages. He makes his janitor the kind of character that is instantly loveable and we all want to see what happens to him and are rooting for him all the way. Without his performance this film would implode. Paul Giamatti is a genius.
THE LADY IN THE WATER is so personal a film to M Night Shyamalan (who really has to stop casting himself in acting roles) that it won't connect with much of its audience (assuming it knows who its audience is), but there is much in it to like and admire. Like its leading lady, however, it fails to invoke the necessary wonder.
Top
---
Trailer
Top