Review
Dr Rick Marshall was once a respected scientist until he came up with the idea that tachyons were the future solution to the energy crisis. His theories of being able to travel to parallel worlds where past, future and present collide were dismissed and he fell into disrepute. The arrival of a young female student who believes him and even has evidence that he was right spurs Marshall into finishing the machine that could open the door to the parallel worlds and he travels there with the student and the redneck owner of a rundown tourist trap.
In this other world, he falls foul of an intelligent T Rex which he names Grumpy and a race of lizard people known as Sleestak, one of whom is planning to open the door between the worlds and invade our own.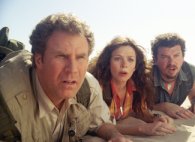 .
LAND OF THE LOST was apparently a much-loved, but dodgy show in the USA which was barely seen outside of those shores. It was clearly a lot better than this witless movie or it wouldn't have fans enough to warrant a big screen adaptation. At least we can review from a point of view of ignorance of the original. The plot is OK for a comedy romp, actually quite a nice set up, but the film is just not funny. The characters aren't funny, the script isn't funny, the sight gags aren't funny, the special effects aren't funny. Nothing is funny. There are possibly two smiles in the mercifully short running time, but no laughs at all.
Anna Friel (PUSHING DAISIES has proven herself to be an accomplished comic actress and Will Ferrel was once upon a time considered to be the funniest movie actor on the planet, but you wouldn't know it from this. The film suffers from the delusion that running around and shouting is inherently funny. It's not, it's annoying and eventually boring.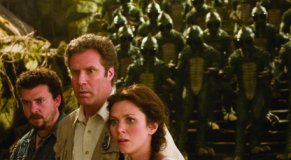 .
The special effects are of variable quality ('surfing down the dinosaur's tail'), but generally fine and the setting shows some imagination, but chances are that the original show proved to have more invention and wit in one episode than this multimillion dollar adaptation has in its entire length.
Everyone involved ought to be thoroughly ashamed of themselves.
Top
---