Review
God has apparently come to the end of his not so infinite patience with humanity messing up and has decided that it's time to start again. Instead of Noah's flood, this time he decides to end it all with a flood of the living dead. Angel Michael doesn't agree with that decision and falls to Earth, cuts off his wings and heads out into the desert to stop the apocalypse by saving an unborn child. To do this he's going to need guns, lots of guns. The diner where the child's mother works is about to become the last battleground for humanity's future.
LEGION makes absolutely no sense, but then that's not really its agenda. If God really wanted the child dead then He would have just buried the place in an earthquake or hit it with a thunderbolt or something else equally cataclysmic, not messed about with a few funny living dead types that can easily be dealt with by superior firepower. If it has to be the living dead then He could have just kept on sending them until the good guys ran out of bullets and then overwhelmed then. But where would be the fun in that?
Because what LEGION is about is being a balls-to-the-wall action movie in which a group of mismatched ordinaery folk are beseiged by psycho baddies. It's basically PRECINCT 13 with the gang members transformed in demon zombie things. If all you want to see is a bunch of zombies get blown apart in increasingly desperate and innovative ways then there is lots of fun to be had here, but if you're after something to tax your brain a bit then forget it.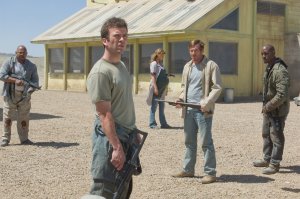 Paul Bettany is an interesting actor and he can handle what this film asks of him without even waking up. He flexes his muscles satisfactorily and wastes the bad guys with a few laconic asides before taking on angel Gabriel in a big, heavenly smackdown. The rest of the cast are equally able and just as aware that this is a film that is hardly worth their talents or making any real effort.
That said, the action is efficiently staged and there is rarely a dull moment, but there is equally rarely an original or overly interesting one. The characters are sketches that never get coloured in no matter how much they tell each other stories about their lives and are there merely to provide a number of people for the zombie things to take out gradually.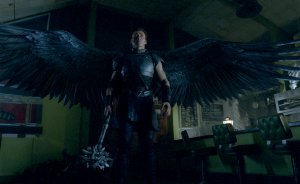 This is an action movie, not a horror one and so the bloodletting is kept relatively under control even if the body count is huge.
LEGION is a braindead Friday night sort of movie that wastes its good cast but offers cheap, undemanding, disposable entertainment if that's what you're looking for.
Top
---
Trailer
Top