Review
Jimmy has just been dumped by his on-off girlfriend (again) and Fletch has lost his job as a clown for hitting the kids (again). Financially embarrassed, they head off for the wilds of Norfolk on a hiking trip and find themselves in a cottage full of gorgeous east european girls. Unforturnately, in this town all the women turn into lesbian vampires at the age of 18 and the two boys are the latest sacrifices. Oh, and the lesbian vampire queen is about to rise to enslave the earth.
Just to clarify the title means 'killers of lesbian vampires' not 'killers who are lesbians' or even 'killers who are lesbians'. Vampires are, by definition, killers.
LESBIAN VAMPIRE KILLERS wants to be a comedy/horror with the accent on the comedy and there is certainly little in the way of horror. A few mild jumps as vampires appear in windows or suddenly bare their teeth, but that's about it. The comedy in the script is also quite weak, with only a few genuinely funny lines. What really works in this film is the chemistry between the three leads. Mathew Horne and James Cordon are a double act on televsion (famous for Gavin and Stacey) and so there is an easy rapport between them that that communicates as friendship. They are the core of the film and it is their performances that make the most of the limited material that they have to work with.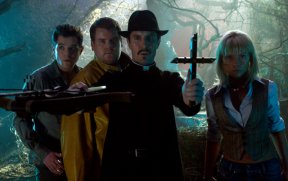 Add to that a winning performance from MyAnna Buring as the only non-lesbian, non-vampire girl still standing and Paul McGann camping it up as the vampire-slaying vicar and it is quite clear that everyone on screen is having a blast making the film. More of a blast than the audience watching it anyway.
LESBIAN VAMPIRE KILLERS isn't a bad film, but (killer title aside) it isn't that great either. Taken as a Friday night, after-the-pub, few-cans-and-mates-round-the-flat movie it will just about scrape past, but the comedy isn't plentiful enough or funny enough, the horror is pretty much absent and the lesbian vampires don't flash enough flesh for anyone looking for a bit of soft porn.
It's bright, it's brash and it's confident, but it's the sum of its parts and the parts aren't that impressive.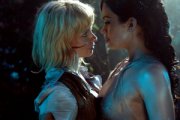 Top
---
Trailer
Top