Review
An alien crash lands in New York in search of something called the orb. The orb has the power to suck all salt from the Earth's oceans to power the alien's planet for years. He needs only to get it to the ocean. To do that, he must track down the boy that has it and learn the what it means to be human. The boy, and his single mother, must also learn that the alien is actually a space ship crewed by tiny little people who have been taken over by human emotions.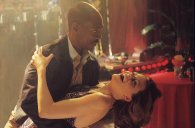 In MEN IN BLACK there was a scene where a human head opened to reveal that the person was actually a robot being controlled by a small alien. Someone clearly saw this and decided that you could make a funny film out of this character's story. And you could, but MEET DAVE it certainly is not.
Eddie Murphy used to be a comedy god whose film releases were events to look forward to. The days of 48 HOURS, TRADING PLACES, COMING TO AMERICA and BEVERLY HILLS COP are long behind him and we have films like NORBIT and THE NUTTY PROFESSOR 2 as a more recent memory of Murphy's talents. An Eddie Murphy comedy release is now something to fear.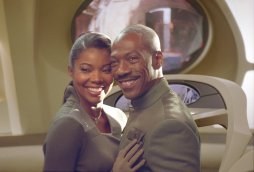 MEET DAVE is a reason to be afraid, be very afraid. It is a totally laugh free experience, with barely a couple of smiles in its entire running time. It's not Murphy's fault alone as the plot is crass and makes no use of the potentiality of the plot. Referencing a masterpiece like IT'S A WONDERFUL LIFE even manages to underline the fact of how poor it is. However bad the plot, the script is even worse. There are few enough verbal jokes, but every one that there is falls flat. If Eddie Murphy gurning away at the camera isn't your idea of comedy nirvana then this is not the film for you.
With this kind of material to work with it is no surprise that nobody comes out the other side with any sort of laurels. Murphy is humourless in both his roles as the robot spaceship and its captain. Gabrielle Union makes little impact as the admiring No 3 whilst Ed Helms and Pat Kilbane overham it as the odious No2 and No 4 (who goes from gruff security officer to offensive homosexual caaricature after two bars of A CHORUS LINE) respectively. Only Elizabeth Banks keeps her dignity, infusing her single mother Gina with more charm than the film deserves right from the get go.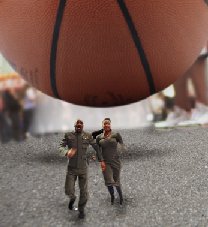 Whilst we would like to report that Eddie Murphy is back to his comic best and making films that are more than just offensive, it's not the case here. MEET DAVE? You'd be better off crossing the street to avoid him.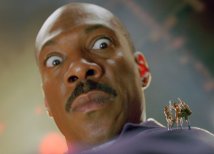 Top
---
Trailer
Top