Review
Helium 3 has revolutionised Earth and human society. The free energy it produces has solved all humanity's problems and it is mined on the moon by automated harvesters. The only human component in the mining operation is Sam Bell, a man in the last two weeks of his contract. Soon he will be home again with the wife and child he hasn't seen for three years. Then there is an accident with one of the harvesters, but Sam wakes to find himself in the infirmary with no memory of what happened. He also has no memory of why there is a spacesuit missing from the airlock and a rover missing from the garage. The only logical answer is that Sam Bell is no longer alone. When he discovers who the intruder is, it is going to change everything he ever thought was true about the universe.
MOON is an extraordinary film, especially in these days of superbudget CGI epics that are too busy throwing around spaceships and explosions to have time for anything so quiet as an actual thought. MOON is about nothing but thoughts and big thoughts at that. This film considers questions of identity, humanity, memory and the importance of truth. There is a talking computer and a couple of surface machines, but that is as far as the special effects and technology goes. If it's action and battling robots that you want then you're in the wrong place.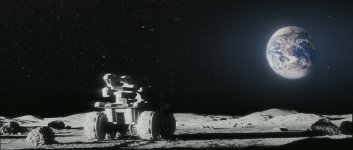 .
If, however, you want a film that will surprise you, intrigue you and make you think then you are in the best place to be this year. MOON is the first sci fi movie of the year to fulfil its promise and in a year of megabudget comic book and robot movies it has done it on a derisory budget.
The film is built around Sam Rockwell. A script hasn't given such a role to an actor, such an opportunity to shine, for a while and he takes the opportunity and runs with it. His performance as Sam Bell is real and human, a career best in a career that has already amassed a number of brave and exciting performances. If he's not being mentioned around prize-winning season then there really is no justice in the world.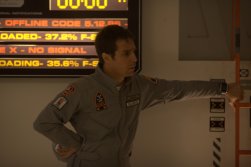 .
Rockwell is the basis of the film's success, but he is helped by a story that is a mystery that develops into a story of human invention and the indomitability of the human spirit. It may be small and intimate, but it's all the better for it. Clint Mansell also provides a score that is a part of the experience rather than merely an accompaniment.
For anyone with a brain, MOON is the sci-fi sensation of the year.
Top