Review
When a new Earth-like planet was discovered, the starship Elysium was sent on a colonisation mission. Shortly thereafter the Earth came to an end and all that remained of the human race was locked in the crew and gene banks of the Elysium. Some time later, Bower and Payton wake up from their hypersleep to find the ship's reactor close to failure and the rest of the crew missing. Whilst Payton remains locked in a room looking for answers in the system, Bower crawls out into the ship and finds that they are not alone, but the creatures that are out there are feasting on the flesh of the sleeping crew and he is at the top of their menu.
PANDORUM would like to be considered in the same breath as outer space horrors like ALIEN and EVENT HORIZON, but the only comparison is likely to be unfavourable. It is more likely to be linked to the other deep space madness misfire DANTE 01, both in its lack of likeable characters to empathise with and in its love of slime and dark corridors.
One man alone on a ship full of creatures that want to eat him and another battling with inner demons - you would have thought that this was going to be a slam dunk, but the fact is that there is nothing here that is even remotely scary. Monsters in the shadows not scary? In this film not at all. Everything is dark, so dark that half the time you can't see what is happening and when the creatures do leap into action the rapid cuttings obscures even what is visible in the low light. It's hard to be scared of something that you never see.
There are some ideas that are interesting, such as the origin of the creatures, the final fate of the ship etc, but these are subdued by the continuous running through dark corridors and occasional bouts of uninspired gore, each would-be shock accompanied by a giant burst of noise to make you think that the film is scary rather than you thought the roof had caved in.
It's not the actors' fault either. Dennis Quaid is always reliable and the rest of the cast are unknown enough to ensure that they are all expendable, but none of them have much to work with.
PANDORUM is not scary, not surprising and not very intelligent. Go back and watch EVENT HORIZON or ALIEN instead.
Top
---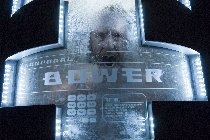 ---
Trailer
Top
---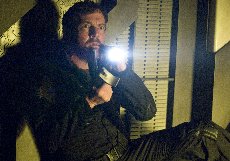 ---