Review
A deadly gas is loosed into the atmosphere near to a small town and soon everyone is turning into pustulating corpses with the need to eat the brains of the few unaffected survivors. It's a running battle from then on for survival.
The premise for the Robert Rodriguez directed half of double feature project GRINDHOUSEis as pared down as it gets. It's NIGHT OF THE LIVING DEAD with more guns and a lot more splatter.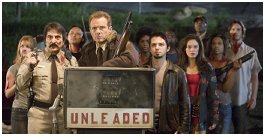 GRINDHOUSE was the brainchild of directors Robert Rodriguez and Quentin Tarantino (who directed the non-sci fi DEATH PROOF) as a tribute to the cheap exploitation movies of the 70s, the films that were only a step away from the video nasty label. Plots were threadbare, effects were cheap and entertainment value was variable. This homage extends to the artificially aged and 'distressed' quality of the film and even has a whole reel of film apparently missing, leading to a jump in the action (right in the middle of the sex scene) and characters discussing things that we never learned about.
There's nothing variable about the entertainment level of PLANET TERROR. It's great fun from start to finish, though in a highly eccentric way. Although it's ostensibly a horror movie, it is rarely scary, using its gloopy effects more for gross-out effect than for shivers and frights. Instead, it is more of an action film, a small band of survivors struggling against an implacable enemy that outnumbers them, but doesn't have their huge amount of firepower. Zombies are squished in any number of fashion, always with copious amounts of bodily fluids flying through the air. It's ridiculous, but it's fun.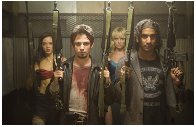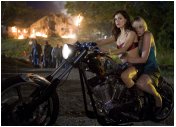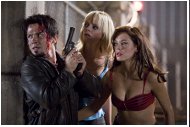 Rose McGowan is the standout of the cast, but then she does get the role of the gogo dancer whose leg is replaced by a piece of seriously destructive ordnance. Her image on the poster is startling and her acrobatics at the tail end of the film all the more so, but she also managest to invest her comic book character with more humanity than the script deserves. The same applies to Marley Shelton whose cheating anaesthetist wife gets both tougher and more vulnerable as the film progresses.
The men fare less well with characters who are more underwritten. Freddy Rodriguez is all macho posing as El Wray, the kid with a secret past that means give him a gun and he's more destructive than a platoon. Naveen Andrews enjoys himself greatly as a nutty genetic scientist with an penchant for stealing the balls of his enemy (why is never explained) as does Jeff Fahey as the man in obsessive search of the best barbecue sauce in Texas. Michael Biehn and Bruce Willis play it admirably straight with what amount to extended cameos..
This is a film of excess with its tongue stuck firmly in (and occasionally through) its cheek. If you take it in that vein then you will have a great time.
Top
---
Trailer
Top