Review
After taking out the Tokyo headquarters of the Umbrella Corporation, killing machine Alice goes in search of Arcadia in Alaska only to learn that it is a lie. She rescues her old friend Claire, who is suffering from amnesia and they fly down to LA where they join a group caught in a prison compound and surrounded by thousands of T-cell infected zombies. Arcadia turns out to be a ship, but getting from the prison to the ship is going to be a dangerous journey and since the vessel has stopped broadcasting there is not telling what they will find there.
Paul WS Anderson was responsible for the first RESIDENT EVIL film way back in 2002. Now he returns to the series after two sequels by other directors, but doesn't appear to have learned anything since that very first one.
The plot, such as it is, consists of a series of fights with zombie monsters whether they are underground, underwater, atop tall buildings or in the shower room. Most of these are simple zombie types that easily succumb to a hail of advanced firepower, but there is one impressively large monster whose face is hidden behind a rag and who carries a huge hammer/axe thing for no readily apparent reason. Fortunately, the jail happens to contain an arsenal so there is a more than ample supply of ammunition to keep zombie bodies splintering all the way through.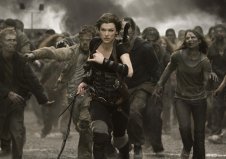 Milla Jovovich has been doing this sort of stuff for so long that it's second nature to her. She has the requisite gravelly voice for an action hero and knows how to strike a pose for the slow motion bits, something that sidekick Ali Larter is quickly picking up. The rest of the characters are (Alice and Claire apart) brief sketches that aren't worth colouring in since they are mere cannon fodder for the increasingly large hordes of zombies to munch on.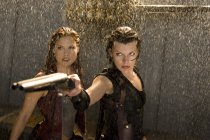 The plot does require some people to do some incredibly stupid things, though. All of the zombies in LA are now clustered around the prison so Alice decides to land her light plane on top of the prison building. The fact that the airport will probably be deserted and will probably have a helicopter sitting around doing nothing doesn't seem to occur to her. That one of the survivors in the jail is Claire's brother takes suspension of disbelief to incredible heights.
Sense, though, isn't what the RESIDENT EVIL films are about. The action is the thing and this has plenty of action. The opening sequence in which the Umbrella Corporation is taken down by Alice and her clones (and no explanation is given as to why there are lots of her) is an impressive spectacle, but all the zombie killing afterwards is depressingly familiar and unoriginal. At one point, Alice is given a serum that takes away her superspeed and healing powers, but it doesn't seem to make the slightest bit of difference to her or how she acts.
Some of the CGI is shoddy and unbelievable, some of it is impressive. The 3D is uniformly fine, but uninspiring. The film does at least have the courtesy of hanging around for less than 100 minutes.
If you are a follower of the RESIDENT EVIL films then this is a perfectly functional continuation of the story, but if you're not then it really isn't the place to start.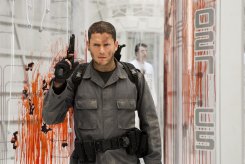 Top
---
Trailer
Top