Review
Since her life took a tragic turn in the Sudan, Katherine Winter turned her back on the church and has spent her life debunking the reports of miracles around the world and lecturing. The small town of Haven in the heart of swamp country, in the shape of Doug, comes to ask for her help. Their river has turned red following the death of a child. The townsfolk are naturally unhappy about this and want answers.
Katherine and her assistant Ben go to the town and find that two full miles of the river have actually turned to human blood. Frogs are falling from the skies and flies, lice and maggots are starting to swarm. The town seems to be heading for the full set of ten biblical plagues.
As Katherine probes the heart of the mystery, the girl who killed her brother, she uncovers evidence of devil worshipping and a plot to create the antichrist.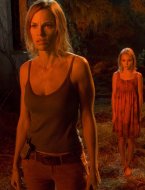 The remake of THE OMEN has a lot to answer for. There are clear echoes of that film in the plotting for this as well as the recent TV series REVELATIONS. The search for the truth behind apparently supernatural or religious events carried out by a team with opposing views, one a believer, one a sceptic. On top of that, one of them is a priest who lost her faith (M Night Shyamalan's SIGNS to namecheck just one). Originality is not high on the agenda here.
The question remains, is it any good?
Well, yes and no. The build up is nicely handled with a slow creeping feeling that Katherine won't be able to explain this one away as toxic waste dumping, but as each plague arrives and passes, she just goes through the same process, getting nowhere. In the end, it takes a phone call from old 'friend' Father Costigan to explain the plot to her. In his few minutes of screen time, Stephen Rea unbalances the whole film with his overheated scenes.
The rest of the cast play things with commendable restraint. Hilary Swank anchors the centre of the film with ease, the supporting players doing just that. Anna Sophia Robb is particulary effective, making her swamp child the very personification of evil without any words at all.
Director Stephen Hopkins manages to wring some undeniably effective moments out of the spooky events, managing to create a creepy atmosphere, but true horror fans won't find enough blood and gore and the supernatural/religious stuff has all been done before, and better, elsewhere. As a result, whilst THE REAPING will entertain for the duration, a month afterwards you will have forgotten that you ever watched it.
Top
---
Trailer
Top