Review
In the near future, organ failure will no longer be the threat to life that it currently is thanks to pioneering work in artificial replacements. Unfortunately, 'pioneering' also means 'expensive' and those who can't afford to buy outright take out payment plans. Fall behind on the payment plans and a Repo Man will come to visit and cut out the organ to be given to a whole new recipient. Unlike repossessing a car, this usually leaves the unlucky client in a state of death. Remy and Jake are two of the best Repo Men, but Remy's wife is pushing him to take a sales job instead and when an accident leaves Remy in possession of an artificial heart, he comes to understand the plight of his victims a bit more and can no longer carry out his job, meaning that he can't pay for his own implant and becomes the target of his previous colleagues.
The idea of live organ donation first popped up (and out) in the namechecked MONTY PYTHON AND THE MEANING OF LIFE, but it was more recently seen in REPO:THE GENETIC OPERA. Clearly someone thought that the idea was far too good to be left languishing in a fringe cult rock opera movie and so this more mainstream future action film has come into being.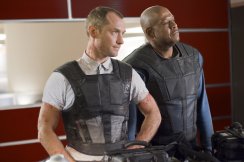 First things first: if you have any issues with medical operations or sharp knives slicing into flesh in close up then this is most certainly not the film for you since that is all these people seem to do. Blood sprays all over the place since none of the recipients of the slicing and dicing go into properly equipped hospitals for this to happen to them either. Any handy carving knife will be sufficient, it seems.
Next, if you want your science fiction action to come with a modicum of sense then this is also not the film for you. The idea that any government would legalise the arbitrary hacking up of people just for being a bit behind on their payments is absurd and since the Repo Men just leave the bodies lying around wherever they open them up then there would be health issue, not to mention moral outcry.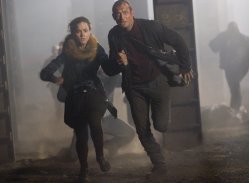 That said, if all you want is to see flesh sliced open, death by typewriter (it's funny, really), some running and fighting with sharp objects with no requirement to use the brain then REPO MAN fits the bill. The action scenes are generally a bit clunky, though the slow motion slice em up just before the end is slick and drenched in claret, and suffer from post-Bourne camera jitters.
The characters aren't particularly believable and certainly aren't likeable which makes audience empathy a bit on the low side, but then the acting isn't really the point of the movie. The high-wattage cast can't do anything with the poor dialogue that they are given.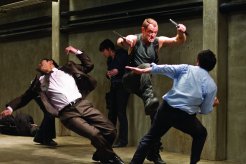 And as for the final twist - well, if you didn't see that coming at least halfway through the movie then you really weren't trying hard and certainly hadn't seen BRAZIL, from which it is ripped as messily as the organs.
REPO MEN offers bloody flesh slicing, but not much else, so see it only if that's your bag.
Top
---
Trailer
Top