Review
Joss Whedon created BUFFY THE VAMPIRE SLAYER. This will probably be his epitaph and he may in time come to hate her as Sir Arthur Conan Doyle hated Sherlock Holmes for being a character so beloved that it stifled all other attempts to be creative. True, he also made Angel, but what's that other than Buffy gone to the dark side? Then came Firefly, an attempt to make a space western series that eschewed bug-eyed monsters and pitted a small bunch of renegades in a battle for survival against an all powerful Alliance. The makers of Blake's Seven possibly checked with their lawyers to see if they could sue. For reasons that are probably complex and justifiable (ie money) the TV executives killed the series after 13 episodes. DVD sales, however, convinced someone that it was worth another go, perhaps as a movie and so we have SERENITY.
SERENITY is actually the name of a spaceship and it's a bit of a rust bucket. Nobody actually says "You came here in that thing? You're braver than I thought", but you can tell that they wanted to. All of the crew have their reasons to be outside of Alliance control, many of which didn't get a chance to be explored by the series before the plug was pulled, nay yanked. They don't really get on, but they're family. It's that kind of a ship. One the number, not really crew, but not quite passenger, is River, a disturbed girl with psychic abilities. She also has secrets and the Alliance has assigned a top operative to get her back into custody, no matter what the cost.
The cost is the systematic wiping out of all the friends that the crew of SERENITY ever had, forcing them on the run and into space controlled by the cannibalistic psychos known as Reivers. There lies the secret behind River's condition and a secret that needs to be known by all the planets.
And so the outlaws become rebels again, something that they're not actually all that good at. Nobody is going to come out unscathed if they come out at all and it's likely that none of them will manage that, promises of sex or not.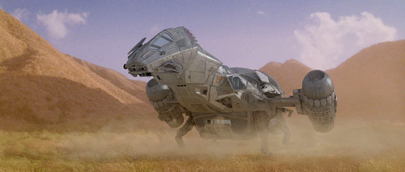 There is very little that is original about SERENITY, but that is Joss Whedon's strength. He is able to take stock situations and twist them in new ways and layer so much smart dialogue over the top so that even if you spot the cliches you really don't mind. Joss Whedon the director also serves Joss Whedon the writer well with unfussy, gimmick-free direction that lets the story flow.
The crew of SERENITY are a likeable bunch (though with Joss Whedon's dialogue in your mouth it's hard not to be) and the fact that they're not stars (yet) means that you can never be sure who's going to be still standing at the end.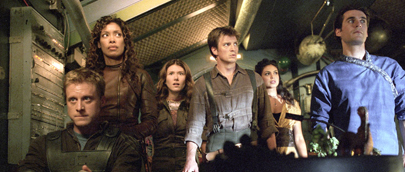 SERENITY rips along at a tremendous pace, never rushing, but never hanging around, Whedon bringing his television sensibilities to the story. There is not a flabby moment at all. It may not be original and it may not be deep, but it is a rip-roaring ride anchored on a plot that is unshakeably solid.
Fans of Firefly will no doubt be delighted by the film, but general sci-fi fans who have yet to spend time in Joss Whedon's world will no doubt be sending sales of the TV show's box set soaring. Top
---
Trailer
Top