Review
Jarrod and Elaine come to LA to celebrate the birthday of Jarrod's successful friend Terry. Terry has a surprise in store for Jarrod and so does Elaine, but everyone is surprised when alien lights descend and start to take people over. Before long, giant spaceships are hanging in skies, monsters are roaming the streets and Terry's apartment building is in the centre of an alien/human war.
SKYLINE is clearly grand theft cine. The film steals whole scenes verbatim from any number of sources. Giant spaceships drop from the skies (every alien invasion since V though originally created in Arthur C Clarke's CHILDHOOD'S END), bright light burns through closed blinds (CLOSE ENCOUNTERS OF THE THIRD KIND), people cower as an alien tendril searches the room (WAR OF THE WORLDS), humans are sucked up into space (QUATERMASS), alien hunter-killers look a lot like the ones from THE MATRIX and so on.
For all that, it is fun. There are huge scenes of monsters tearing up the place, alien ships dogfight with stealth bombers, the opening is creepy and unexpected.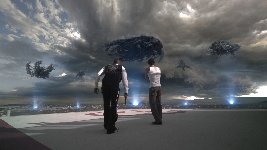 There are problems with the film. The characters don't grip and the time that is spent getting to know them is mainly spent getting to dislike them. The actors have nothing to work with as so many of the conversations are repeated more than once and have nothing much to add to the storyline.
It is clear where the priorities of the Brothers Strause (the pompously titled directors whose last effort Alien Vs Predators: Requiem this is a huge improvement on) lay since the special effects sequences are mainly (a few dodgy CGI moments aside) stunning and the destruction is lovingly rendered, whilst the more human story flounders all over the place. When the imaginatively designed aliens are chasing the survivors all over the place, the film is great fun, but when everyone stops to take breath and talk to each other things get a bit shaky. Fortunately there are just about enough of the former to make up for the latter.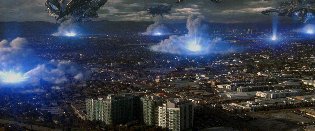 The film also has a natural ending, but decides not to end there. It then goes on to add a sequence of squelchy oddness that borrows (inevitably) from ALIEN RESURRECTION and is just inexplicable.
For a film that has aliens eating human brains at its core, SKYLINE is a serious apocalypse movie that, if taken in the right frame of mind, is a fine time passer with some issues.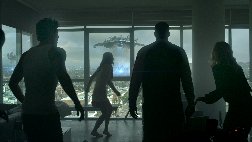 Top
---
Trailer
Top