Review
A meteorite crashes unnoticed in woods near to a sleepy midwest US town. One of the inhabitants unwisely gets too close to what crawls out of the smoking remains and gets absorbed. It's THE BLOB.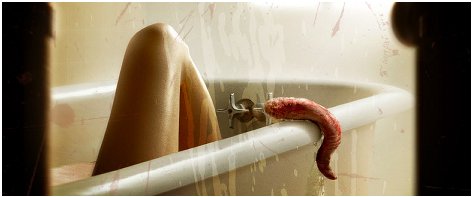 No it's not, though the similarities are as obvious as they are intended. This is SLITHER, the new science-fiction B-Movie body horror comedy starring Nathan Fillion (from Firefly and Serenity).
This is an amalgam of just about every B-movie sci-fi flick that you have ever seen. As well as THE BLOB there is INVASION OF THE BODY SNATCHERS, everything by Cronenberg, all the living dead films, even EIGHT LEGGED FREAKS. It knows it roots and is proud to display it.
Once the first inhabitant of the town is taken over, local pets go missing, a woman follows them and then the whole place is overrun with slimy worms that strike like lightning, enter via the mouth and turn everyone into zombies. The small band of survivors has to fight to stay alive and to figure out what the hell is happening and how to stop it.
It's all great fun with a tongue stuck firmly in its cheek (just under the squirming worm trying to get in there). There is plenty of grue and slime and bodily dismemberment, all kept on the right side of sickening by the lightness of tone and touch. There are also moments of true tension as this is a no-name cast, so anyone might not make it.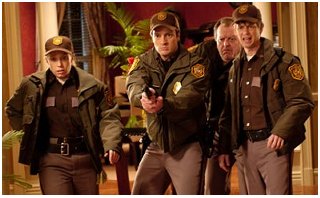 It is, however, also a quick brainless movie with no aims above stupid entertainment, aims that it mostly manages to hit. The worms are good value and give for some nice moments that will have the audience squirming as much as they are.
Top
---
Trailer
Top