Review
Joe is an ordinary young man with no idea what he wants to do with his life, except to ask Heather, the waitress in his late night bar he frequents after working as a street sweeper, out on a date. After getting involved in a fight between what appears to be a demon and what also appears to be the Grim Reaper, Joe is offered the job of becoming a soul searcher himself. The catch is that he will have to give up all contact with the modern world and train to fight evil. Evil comes in the shape of Dante, a man willing to open the very gates of hell here on earth in order to regain his lost love. Help comes from some unexpected quarters, but as hell descends it is up to Joe to find out what sort of a man, or reaper, he really is.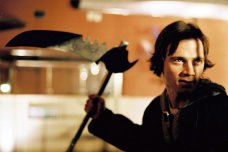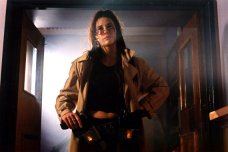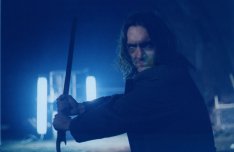 So you've gathered yourself together a tiny budget with which to shoot a move in the UK, what kind of a film do you make? A small, intimate, actor and budget-friendly talky piece about emotions and feelings? Not if you're Neil Oseman you don't. For him it's a kick-ass martial arts, supernatural, special effects heavy actioner - on a budget that probably wouldn't stretch to Tom Cruise's toothpaste allowance on a hollywood blockbuster.
There is no excuse for making a bad movie if you've got a huge budget. Now it appears that there is no excuse for making a bad movie on a miniscule budget, because SOUL SEARCHER is immense fun. And I don't mean immense fun for a film of its limited means, I mean immense fun full stop. Yes, the plot's a bit muddled at times and characters seem to drop in and out of nowhere, but it rattles along at a marvellous pace, providing some cracking action sequences leavened with a great sense of humour. And it always looks a million dollars (or a lot more than that)
At the heart of this is a game cast, all of whom make the most of their chance. Ray Bullock Jr is a personable hero who manages to go from gangly geek to avenging hero without ever sacrificing his likeability or vulnerability. Katrina Cooke matches him as Heather. Together, they share some really nice moments that ground the film against the more fantastic elements. AJ Nicol makes for a threatening heavy with a bit more depth to him than you might have expected whilst Lara Greenway looks fantastic as Lara Croft lookalike Luca, but suffers from having a role that it pure comic book and seems to have slipped in from another film.
There is a terrific score from Scott Benzie who has to get lots more work on the back of this and the punk songs go perfectly with the setting.
Where the film does fall short is in some of the special effects work. Considering the budget, the vast majority of the special effects work is stunningly effective. The after death umbilicals, the death train, the opening of the rift and any number of other things are amazing. Only in the banshee (a very poor model sequence) and the moat of souls (more model work) is there any sign of the film's budgetary limitations.
Much has been made of the tiny budget that this film was made on, but that really isn't necessary because this is a perfect friday night film to be enjoyed with a few beers and a few friends.
And if anyone out there has fifty grand or so to spare, please could they get it to Neil Oseman so that the can get his next film off the ground. We want to see it.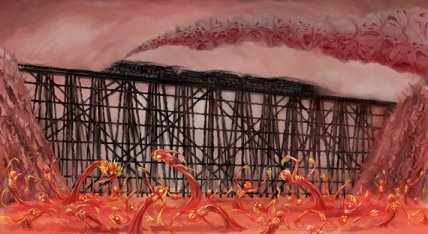 Now normally we don't review DVD releases here at the SCI FI FREAK SITE because we saw the reviewed the film on its cinema release or because nobody gave us one to review, or because you only ever look at the special features once anyway. After all, a director's commentary is just like sitting next to the annoying noisy bloke in the cinema who just won't shut up right through the film. That said, the sheer volume of extras included on the SOUL SEARCHER DVD turns it into a virtual course on how you too can take a tiny budget and come up with a great film. Of course, if you follow Oseman's lead and come up with something awful then we really don't want to know about it. After all, Oseman has showed that lack of budget is no excuse.
Top
---
Trailer
Top