STARGATE CONTINUUM
The last of the evil overlords of the universe is about to be executed for his crimes and the team of Stargate SG1 are there for the event. Given his last words, however, Ba'al (the overlord in question) says that he's not the last and that his 'failsafe option' has been put into effect. Abruptly, people start disappearing, buildings start disappearing and only three of the team make it to the Stargate alive.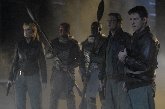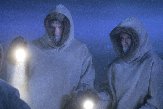 Travelling back to Earth's stargate, the trio of Lt Colonel Mitchell, Colonel Carter and Dr Jackson find themselves not in their headquarters, but trapped in a ship locked in a prison of ice. Time has been altered at a critical juncture in the past to create an alternate timeline, a timeline in which Ba'al can become supreme ruler of the universe and turn his attention to Earth unless the three remaining members of the team can stop him. Assuming that they can get anyone in this timeline to believe them at all, of course.
STARGATE CONTINUUM is the second TV movie continuation of the immensely popular STARGATE SG1 saga (following STARGATE: ARK OF TRUTH) and it comes on a wave of publicity regardig it's multi-million dollar pedigree and its arctic filming (the most northerly film production ever, apparently). So what do you get for those multi millions that you didn't get from the show?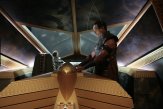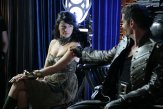 Well, the story does have an epic scale about it, mainly set up by those early scenes set in the snowy wastes of arctic ice. You certainly can't doubt that the place looks cold and the lone figures wandering across a sea of ice is an image that is hard to get wrong. The plot also leaps from alien planets, to earth's past, the arctic, Washington and Russia. There are also vistas of huge alien fleets bent of Earth's destruction (although they don't seem to do very much and the destruction is barely glimpsed) and some dogfights between Earth jets and alien fighters (all very INDEPENDENCE DAY
Andd that is STARGATE CONTINUUM's failing. There is nothing here that is truly new. Alternative timeline stories are a staple of science fiction tv shows as well as being the the point of the BACK TO THE FUTURE and STAR TREK FIRST CONTACT amongst others. The story doesn't come up with anything that makes the idea fresh and exciting. It's also a problem with alternate timeline stories that whatever shocks you pull (killing characters, losing legs etc) can all be put right in the final seconds by reinstating the original timeline and so most elements of suspense are lost.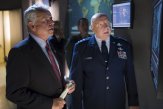 That said, though, alternate timeline stories also give you a chance to see your favourite characters in a totally new light and that can be a lot of fun. Vala joins Ba'al as an evil overlord of the universe with Teal'c as their right hand enforcer. Carter's dead, Mitchell was never born and Jackson's a discredited crackpot. Of course, this only really works if you have already invested time in the characters, so the main effect of this will be lost on anyone who is coming to the saga fresh.

This being a TV movie, there seems to have been more time put in on the script, providing sharp, fast dialogue that allows the actors to enjoy themselves. Richard Dean Anderson gets some great scenes and everyone has their moments. William Devane is a real standout as a no-nonsense President.

STARGATE CONTINUUM continues the story for the fans in a big and bold way, playing fast and loose with the established characters, the longer running time and scale of the production giving the cast more room to breathe, but for those not familiar with the set up, whilst it presents no problems with understanding or following the plot, it proves to be a merely adequate time filler.


Written by Brad Wright
Directed by Martin Wood
---

Lionsgate Home Entertainment
Release Date: 18th August 2008
Certificate: 12
Feature Running Time:95 minutes approx

Special Features
The Making of Stargate: Continuum documentary
Stargate goes to the Arctic featurette
The Layman's Guide to Time Travel featurette
Audio commentary with writer Brad Wright and director Martin Wood
---