Review
As she attempts to bond with her adoptive son, Helen Benson is whisked from her home to be part of a team to assist in the aftermath of a meteor smashing into downtown Manhattan. Except it's no meteor and it doesn't smash into anywhere, it lands and disgorges two passengers. Klaatu is a being born of human and alien dna whilst Gort is a giant robot capable of great destruction.
The military inevitably react by shooting Klaatu, capturing him, interrogating him and then losing him. Helen manages to pick up his trail and learns what his purpose is on Earth, a purpose that could have devastating, not to mention terminal, effects on mankind.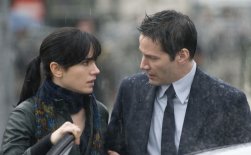 Robert Wise's THE DAY THE EARTH STOOD STILL (1951) is a classic of the science fiction genre, enough so to be referenced in the opening line of THE ROCKY HORROR PICTURE SHOW. It was intelligent, well-acted, original and certainly miles removed from the other Cold-War induced alien invasions of the time. The message was simple, stop fighting or die.
Now, in 2008, the concerns are different and so the message has changed to a more ecological one - play nice with the earth or die. Film-making has also changed and the sight of a young boy taking a man for a tour around Washington's monuments to show him that humans aren't so bad isn't enough any more, nor is the climax of a film being the simple delivering of a message. No, today's blockbusters need action, so Klaatu must be a fugitive being chased rather than casually hiding out. This allows for running and helicopters and all the hardware that a big-budget action movie needs. Which brings us to Gort.
Gort isn't a name - it's an acronym standing for Genetically Organised Robotic Technology and he's a lot bigger than he used to be. Unfortunately, he never looks like he came from anywhere other than a computer hard-drive. He also doesn't do very much in his humanoid form. In the original, he loomed large in the background as a threat, here he is a sidebar who only comes into his own towards the end and then it is as a swarm of humanity-eating locusts. It's a suitably biblical motif for the removal of mankind from the planet, but it lacks the fun value of a giant robot going head to head with all of earth's war machines.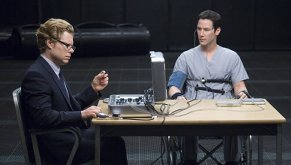 This is the remake's big departure from the theme of the original. Klaatu is not here to warn us about our behaviour and the consequences, but to tell us that the consequences are already here and to set about the process of removing humanity and its works from the universe. There are too few planets that can sustain life and none can be lost just because of one species. Thus the species must be removed. It's a shift that actually works well and the film certainly zips through its 103 minutes running time, but you can't help pining for the measured slow build of the original. The opening sequences, as well, where the scientists are brought together for a crisis they don't know about has been done far too often before and invites yawns. Surely someone somewhere actually signed these people up for these things?
Keanu Reeves is a good choice to play Klaatu because his blank delivery suits the character of an alien not in touch with his human side, whilst Jennifer Connelly is along for the ride and not a lot else. Of the supporting cast only Kathy Bates as the Secretary for Defence makes an impact with John Cleese's cameo jolting us out of the film altogether as we expect him to do something funny.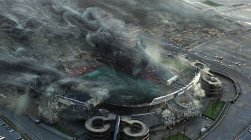 If THE DAY THE EARTH STOOD STILL had been released as an original piece of work, we would probably have been more impressed, but coming from such an illustrious source it was always going to fall short. In the future, it will the 1951 version that is referenced not this, fairly solid but nothing special, remake.
Top
---
Trailer
Top