General Release
88 minutes approx
Certificate 12A




Tom Greer -
Bruce Willis

Agent Peters -
Radha Mitchell

Maggie Greer -
Rosamund Pike

Stone -
Boris Kodjoe

Cantor -
James Cromwell

The Prophet -
Ving Rhames

Written by -
Michael Ferris &
John D Brancato

Directed by -
Johnathan Mostow




Official site
Trailer

Review
The day after tomorrow, virtually the entire population will have retreated into their homes and will live out their daily lives through their surrogates, robots that they are linked to through artificial reality chairs. It's marketed as the safe way to live, but when two surrogates are attacked with a new weapon and their operators are found dead, it's an event that could send shockwaves through the planet. Tom Greer is the cop detailed to investigate, but when his own surrogate is destroyed whilst chasing the killer through an area designated as 'humans only' he is dropped from the case. Naturally, he decides to follow it up on his own, in the vulnerable flesh.
Look at virtual reality games like Second Life and the gadgets that gamers are using to enhance the video game experience and you can extrapolate out to the world that SURROGATES inhabits. Well sort of. The military use them to stop casualties (one interesting scene sees a major engagement being played out in an almost silent room of supine figures) and the police are routinely offered upgrades that make them faster, stronger and better.
There are those who don't agree, of course, and set up little enclaves of alternative lifestyle, but they are all portrayed as thugs or tramps, completely at odds with the near perfect world of the surrogates, or 'synths' as they're known. We're told crime has plummeted, but nothing is mentioned about the birth rate since the only people having sex are doing it through surrogates.
The film, however, is less interesting than the world it inhabits. It's very reminiscent of I, ROBOT, though the world is not as advanced and everyone is still stuck on subways and driving the same cars despite being able to construct super robots. Where it scores over that film, though, is that (ironically for a film about disconnection and alienation) there is more depth to the characters. Bruce Willis gets the action stuff to do, sure, but it's in his relationship to his wife and the surrogates that the film finds its strength rather than the bursts of (occasionally dodgy) CGI action.
The film is almost entirely his as just about everyone else he deals with is a surrogate and has a sort of blankness about them. Rosamund Pike and Radha Mitchell do their best and prove to be unfortunately adept at playing emotionless drones.
It's not overlong either, clocking in at less than 90 minutes and not outstaying its welcome, but a bit more length might have allowed a deeper look at the situation and made for a better backdrop to the simple action plot.
SURROGATES is, however, a Bruce Willis sci-fi actioner and is perfectly competent in that role. It could have been more.
And who the hell authorised a trailer that gives away the ending?
Top
---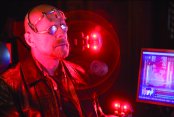 ---
Trailer
Top
---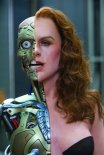 ---