2006
USA
88 minutes approx
Certificate 15



Violet -
Milla Jovovich

Six -
Cameron Bright

Daxus -
Nick Chinlund


Written by -
Kurt Wimmer

Directed by -
Kurt Wimmer



Review
In a dystopian future (is there any other kind?) the Blood Wars rage. A deadly virus is stalking the planet, turning those it touches into haemophages (which is a bit like a vampire without the bloodsucking apparently). The haemophages are hunted down by the totalitarian Ministry of Health. There are few left and now a weapon has been developed that could spell the end for them all. Top killing machine Violet (Milla Jovovich) is sent in to get the weapon, but finds that it is nothing more than a boy. This boy, though, has something in his blood that might save all the haemophages and will certainly spell doom for all the uninfected humans. Everyone wants the boy and are willing to kill Violet to get him. She has eight hours to save him, and herself.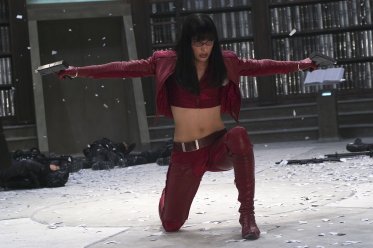 Ultraviolet comes to us on a wave of disinterest and disdain. Finding a cinema that was showing it turned out to be something of a task in itself. Could it really be so bad that the multiplexes couldn't even be bothered to show it? Of course, not. It's not as bad as its reviews have suggested, which is not to say that it's good, because it's not that either.
Positives first. This is no AEON FLUX. Where that film was a sci-fi action adventure without any action or adventure, this film has more action than you could swing a stunt team at. Barely ten minutes go by without Violet taking on dozens of bad guys and leaving them all dead. There's a bike chase where the bike can ride on any surface it can find, which the walls of buildings as well as the roofs and Milla Jovovich can do this kind of action in her sleep.
Negatives then. Firstly, the moment that you hear that Violet was pregnant when she got infected, you just know that she's going to get saddled with some kid that will bring out the lost maternity in her. It's inevitable, and just too cliched to bear. Then there's the dialogue. Any film that has a scene in which the bad guys explain the plot to each other starting with the words 'As you know' really needs a rewrite. This one probably needs two or three. With dialogue like this, the actors stand very little chance, but they aren't strong enough to do anything with it at all. Even Jovovich can't make this work. She might look the part, have the moves and know how to strike the poses, but when she has to say something it all falls apart. The supporting cast of no-names are no help and even William Fichtner (whose name on a cast list is usually reason to be cheerful) comes up with nothign to improve this film.
unforgiveably, the CGI in ULTRAVIOLET is unconvincingly lousy. There are moments where it makes you want to cringe. There is no longer any excuse for that.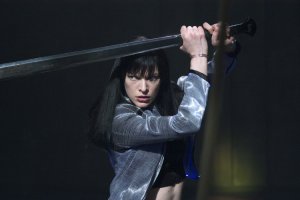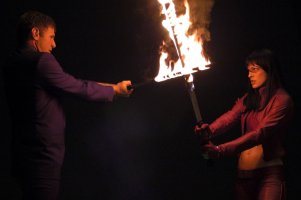 If all you demand from your sci-fi is lots of movement, lots of guns and lots of killing, then ULTRAVIOLET delivers and makes for an acceptable friday night, six-pack movie. On every other level, it is found wanting.
Top
---