General Release 2010
80 minutes approx
Certificate 12A





Becca -
Jenn Proske

Edward -
Matt Lanter

Jacob -
Chris Riggi

Frank -
Diedrich Bader

Iris -
Kelsey Ford



Directed by -
Jason Friedberg & Aaron Seltzer

Written by -
Jason Friedberg & Aaron Seltzer



Review
Becca is the new girl in town and finds herself attracted to Edward, a tall dark and sparkling stranger who turns out to be a vampire. She is also attracted to Jacob, who is a werewolf. Together, they make adolescent angst with a supernatural twist.
The short review of this film is easy - VAMPIRES SUCK and so does the movie.
That, though, doesn't do justice to the sheer soul-suckingly awful experience that is VAMPIRES SUCK. The whole TWILIGHT might be ripe for a spoofing, but the word 'spoof' indicates humour, jokes, laughter. All of these are absent from VAMPIRES SUCK. Instead we get a pallid re-run of the first couple of movies with desperate mugging, desperate lack of originality and just plain desperation. Even if you hated the TWILIGHT books and films you will hate this more.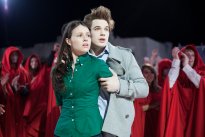 Since pleas to Hollywood to stop making this awful, awful dross have fallen on deaf ears it comes to the audience to do the right thing. Avoid this like the plague that it is. Do not give over your money. Send a message that your life is worth more than watching this stuff.
We just don't want to talk about it any more.
Top
---