2008
116 minutes approx
Certificate U





Written by -
Andrew Stanton & Pete Docter & Jim Reardon

Directed by -
Andrew Stanton



Review
The future of the Earth is not a bright one. A rampant consumer society has generated so much waste that humanity has abandoned the planet for a life amongst the stars whilst an army of robots clean up the planet. Those robots have all failed now, all except one, but years of isolation and relentless toil have taken their toll on Wall-E. In all those years, he has developed a personality, a good deal of curiosity and a sense of wonder.
Then Eve arrives. She is a super sleek probe robot, looking for plant life to trigger a return to Earth by the exiled humans. She makes a huge impression on Wall-E and when the ship returns for her, he hitches a ride to an adventure that will prove one robot's humanity and Humanity's salvation.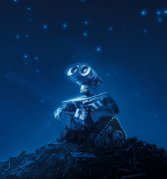 WALL-E is the latest computer-generated animation from the Pixar Studio that has proved to be the dominant force in animated films since the release of TOY STORY and so has a hell of a pedigree and a hell of a legacy to live up to. Fortunately, the Pixar crew show no sign of allowing the quality or invention of their productions dip at all.
Pixar do not make kids' movies. Though a young audience is clearly the target, WALL-E has appeal for all ages. The early sequences of the lonely robot going through the motions of his meaningless life are desolate and will have parents wondering what the youngsters are going to make of it all. It's a brave opening and it's over all too soon as EVE appears and kicks the narrative off. From there on in it's a rollercoaster ride through outer space as Wall-E chases his beloved EVE through the labyrinthine space vessel that has been home of the human race for the last 700 years. The pace doesn't let up, there are numerous gags and pratfalls, all building up to a tense and exciting, not mention spectacular, finale.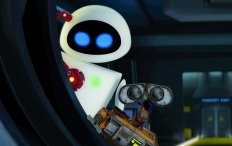 Critical, of course, is WALL-E himself. Whilst EVE is smooth and featureless, WALL-E is pure cuteness rolled up and encased in metal. He channels all of the great non-humanoid robots that haave gone before him from R2-D2 (STAR WARS) to Number 5 (SHORT CIRCUIT) by way of Huey, Dewey and Louis (SILENT RUNNING) and proves to be as expressive and endearing as any of them. He is a robot everyman, an ordinary Joe robot, shooting for the better life with the supermodel and that's an easy story to get right. The animation is, of course, stunning. From the characters themselves to the exquisitely rendered backdrops, there is no fault to be found at all. The humans are the least 'real' characters, being more cartoonish than the rest, but they manage to make an impact with limited screen time. This is, though, Wall-E's film through and through and he charms from the off and is a hero that you just can't help rooting for.
There's more to it than that, of course, and both the ecological and anti-obesity messages are well-made without ever being heavy or overdone. As a dystopian future, it's a frighteningly plausible one.
WALL-E is not quite a masterpiece, but it doesn't miss out by much. It is always entertaining, effortlessly charming, often surprising and always looks amazing. It is, in short, a Pixar movie. Sit back and enjoy.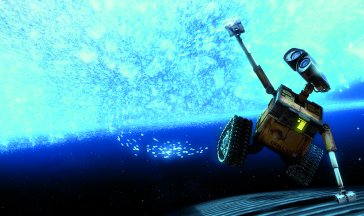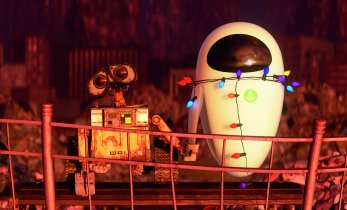 Top
---