Episode 1
Young Siegfried is only four when he sees his parents butchered by invaders. Brought up by a blacksmith with no memory of his true heritage, he meets a queen by the site of meteor strike and forges a sword from the metal capable of slaying the dragon Fafnir. The blood of the dragon makes him invulnerable except for one shoulder where a leaf stuck to his skin and the dragon's hoard is his. The gold comes with a curse, however, and the invaders return.
The legend of Siegrfried and the gold of the Neibelungen is the basis of Wagner's ring cycle and is said to have inspired Tolkein's LORD OF THE RINGS. It's one of the more important european legends and it deserves a great telling. Fortunately, for the most part, it gets one here. Opening with a pretty impressive battle sequence it also boasts a very impressive dragon in Fafnir. The centrepoint of the story, there's some good CGI work in bringing the lizard alive, even if the fight itself leaves something to be desired in the logic and sheer action stakes.
As impressive as the dragon is, just as impressive is Uli Edel's direction. The budget is made to look absolutely huge with some wonderful vistas of the Norse countryside, some flashy action, great swordfights and fun storytelling.
What Edel doesn't manage to do, however, is get a central performance out of Benno Furmann as Siegfried. In fact, the big man looks the part and throws a mean sword around, but is a total charisma hole and considering that he's in almost every scene that is a big handicap. Having Max Von Sydow hang around as Siegrfried's adopted father is a smart move as he can handle this sort of stuff with ease and brings some of his own class to the project whilst Kristianna Loken looks magnificent as Brunnhild in her brief running time on screen.
Surprisingly entertaining, even more surprisingly epic in scope and with an excellent dragon to boot SWORD OF XANTEN is a great fantasy story, or half of one at least.
Top
---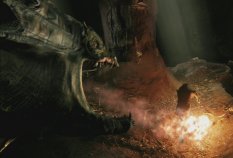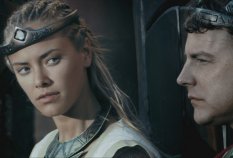 ---
Episode 2
With the great deeds having been done, the hoard of Nibelungen gold starts to work it curse. Siegfried, free at last to travel to Iceland and claim Brunnhild is ensnared by a love potion, making him fall for Kriemhild. Instead, he travels to Iceland to help win Brunnhild for Gunther, using his mask of disguise. As everyone returns home, passions run deep, tempers run high and murder is plotted.
Considering the action that was thrown around in Episode 1 this episode descends into a medieval version of DYNASTY. There's a brief flurry with a battle in the snows in Iceland that is pretty impressively realised, but over far too soon and a brisk bout of swordplay at the wedding reception, but that's it.
One advantage is that Kristianna Loken's Brunnhild gets a good share of screen time, making up for the rather limp secondary characters. Considering that this half of the tale is all about emotions, having Benno Furmann as the central character does the show no favours. When Julian Sands gives one of the best performances as the shady (but loyal) servant of King Gunther then you know you're in trouble.
Even so, the running time flies by and the ending is suitably tragic. All in all, this does creditably by the legend.
Top
---