2006
104 minutes approx
Certificate 12A



Wolverine -
Hugh Jackman

Storm -
Halle Berry

Jean Grey -
Famke Janssen

Magneto -
Ian McKellen

Professor X -
Patrick Stewart

Rogue -
Anna Paquin

Beast -
Kelsey Grammar

Cyclops -
James Marsden


Written by -
David Benioff and Skip Woods

Directed by -
Gavin Hood



Review
Someone has developed a means of suppressing the mutant X gene permanently. They are calling it a cure and making it available to anyone who wants to take it voluntarily. Many mutants fear that it won't be long before its use is compulsory and the military have already turned it into a gun. Magneto (Ian McKellen) sees it as a direct attack on his power and raises an army of mutants to launch an assault on Alcatraz Island, where the source of the cure (another mutant) is being held. All that stands between him and the boy is the X-Men.
They, however, have problems of their own. Jean Grey (Famke Janssen) has come back from her watery grave a changed woman and has depleted their numbers, taking out some of their strongest members as if they weren't even there. She has now joined with Magneto's campaign.

The superhero franchise rumbles on into its third episode and, on this evidence, can carry on for quite some time to come. Every sequel has to be bigger than the film before it, and this one certainly raises the bar in terms of the action. Not only is there the gratuitous destruction of the Golden Gate Bridge (absolutely stunning, but makes absolutely no sense whatsoever), but Wolverine (Hugh Jackman) gets to do some serious damage and the final face-off between the good and bad mutants is huge in scale.
This being an X-Men film, though, there is more to it than just superhero smackdowns. Plenty of time is given over to the human stories. The most intriguing of these is the torn emotions suffered by Rogue (Anna Paquin) who sees the cure as a way of finally being able to touch those that she loves. Wolverine is faced with a deadly decision when Jean turns into the Phoenix, a creature whose power far outstrips her control and Storm (Halle Berry) faces a challenge that her powers do nothing to prepare her for. Only Ian McKellen's Magneto remains unchanged, but then he is the villain after all.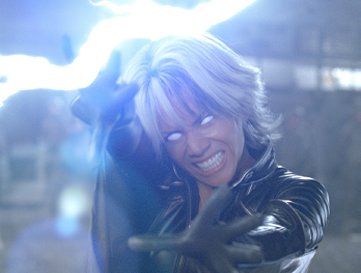 The plot doesn't hang together as well as the previous two films. There are, in fact, three plot strands going on that never really quite mesh. The first is the Magneto/cure story and that is the most successful. The Jean Grey/Phoenix story is less successful as you never really understand why she joins Magneto and never actually does anything to help him out. The third, which is the story of the winged Angel, seems grafted on just to get the flying fan favourite onto the screen as he never impacts on either of the two main stories and if he was taken out nobody would even notice. The early scene of him as a boy trying to get rid of his growing wings is, however, one of the most affecting of the series as a whole.

The special effects are, of course, spectacular and provide one of the scariest sights for a long time - that of Ian McKellen and Patrick Stewart magically made younger and looking scarily bizarre. That one doesn't quite work boys.


X-MEN THE LAST STAND is the best genre film of the year so far (not hard) and would have been able to stand proud amongst the best offerings from last year. Top
---