General Release 2009
86 minutes approx
Certificate 18





Frida -
Janette Armand

Tom -
Doug Fahl

Lance -
Cooper Hopkins

Joe Miller -
Russel Hopkinson

Reverend Haggis -
Bill Johns

Cheryl Banks -
Cornelia Moore

Mayor Burton -
James Mesher



Directed by -
Kevin Hamedani

Written by -
Kevin Hamedani & Ramon Isao



Trailer


Review
It's 2003 and Port Gamble is a pretty average sort of American town. Average that is until zombies start to wander about and eat everyone. When Islamic terrorists are suspected 2nd generation Iranian American Frida finds that she has more to worry about than just zombies and gay lovers Tom and Lance find that the church is no safer than being outside with the zombies.
Anyone hoping for a full on zombie horror movie is going to be disappointed because ZOMBIES OF MASS DESTRUCTION is a zombie comedy that also wants to make some points about America through the format. So whilst the town is under siege from zombies there is still xenophobia, homophobia, religious fervour, rampant patriotism, drug abuse and the gun culture to be made fun of. The targets, to be fair, are pretty easy ones for the film makers. Redneck idiots, religious zealots, corrupt politicians, it's a bit like shooting fish in a barrel with a bazooka, but that's not to say that the comedy isn't funny because in amongst all the gore there are some chuckles to be had. It's the satire that is heavy-handed and blunt and ineffective.
If what you're after here is gore and a few laughs, then both are catered for. Blood is used for comic effect, but there is also the requisite amount of intestines on display.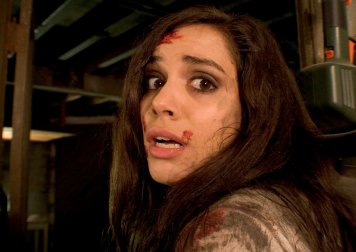 It's in the cast that the film shows its greatest weaknesses. Janette Armand makes for an acceptable lead, but many of the other actors show their limitations in the first half hour as the characters are introduced and before the brain munching begins. Lower down the order, the performances get quite ordinary and even pretty poor.
ZOMBIES OF MASS DESTRUCTION is nobody's idea of a masterpiece, even a zombie masterpiece, but it is a hell of a lot more entertaining than George Romero's most recent effort SURVIVAL OF THE DEAD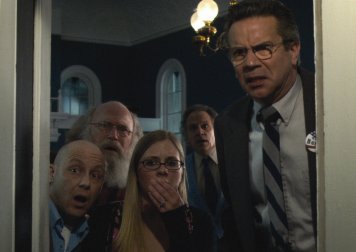 Both Blu Ray and DVD formats are released on October 18th 2010.
Top
---
Trailer
Top