Review
In the near future, nudity has been banned and stripping is now an underground activity. Also underground is a lab where a genetically engineered virus has escaped, turning the workers into flesh-craving zombies (are there any other kind?). An elite squad is called in to remove the threat, but one of their number is bitten and escapes into a nearby strip club. There he infects one of the girls who is turned into a super stripper that has the punters throwing money at them. Of course, she is also eating them, but that doesn't seem to bother the manager. As her success grows, the other girls feel the pressure to follow her example and get zombiefied, but with reanimated corpses piling up in the cellar this isn't going to end well.
ZOMBIE STRIPPERS - it's a title that is so perfect for exploitation that it's a wonder it hasn't been done before. In terms of doing what it says on the tin, this is right up there with SNAKES ON A PLANE. It is only getting a very limited release, undoubtedly to drum up recognition for a rapid release onto DVD, but that's the proper place for this, on your DVD player after a Friday night down at the pub with your mates. This is a lads' mag movie. If ZOO or NUTS had made a movie then this would be it. It's all about breasts and behinds and entrails.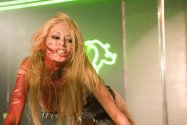 It's also amateur hour on the acting front. Fair enough Jenna Jameson does well enough in a role that requires her to be on her feet for longer than the usual and a couple of the other strippers are surprisingly good, but they are balanced by a general level of pantomime headed by Robert Englund (yes, Freddy Krueger himself) and some russian ex-stripper who is so far over the top that she's down the other side already. In between, everyone else is just embarrassingly poor.
Which is a shame because the script isn't as bad as all that and a better director could have reigned in the performances and come up with a much more professional and fun film. They might also have been able to prevent it from going off the rails at the end. The script has enough good lines in it to see what it might have been. The central premise also doesn't make a lot of sense. Sure, at first the strippers are given extra 'fearlessness' and energy in the stripping whilst just having a bit of blood on them, but how they maintain their popularity when they are decaying all over the place is incomprehensible.
There is also an incomprehensible amount of red stuff loosed in the film. If there's a film that sees so many heads exploded, entrails ripped out and a stripper literally stripped of her flesh then we must have missed it.
ZOMBIE STRIPPERS is a film as braindead as its zombies, but what else could you expect from a film with a title like that? This is going to do very well at 'BLOCKBUSTERS'.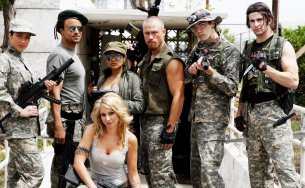 Top
---