Review
A circus performer mourning the loss of his chimpanzee partner in a world shattered by unknown events takes shelter and a job as a handyman in a remote apartment block. What he doesn't know is that the owner of the apartments and the delicatessen attached is providing meat of a very dodgy provenance. The butcher's daughter knows and now that she is attracted to the circus man she must find a way of protecting him, even if it means going to the mysterious gang of troglodyte dwellers.
For a comedy could there be a subject more black than that of cannibalism? Or suicide perhaps? Grief? Take your pick because they are all part of the fun in this anarchic film that is quite possibly unlike anything that you have ever seen before.
Despite the subject matter, though, it has to be said that DELICATESSEN is funny. Very funny. The two bedspring scenes, for example, are expert lessons in how to craft perfect, almost dialogue free, visual comedy.
Because DELICATESSEN is the most visual of films. Directors Marc Caro (DANTE 01) and Jean-Pierre Jeunet (ALIEN RESURRECTION) drown their film in a treacly sepia tone and a retro future set design that evokes a skewed sense of a world gone badly wrong and that's before we even get to the cast.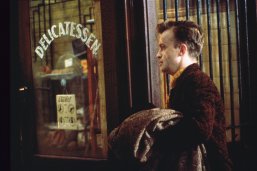 The tenants of the apartment block are all terrible creatures in their own right and the skewed angles, distorting lenses and extreme closeups all help to twist them even further beyond the fine comic performances. Jean-Claude Dreyfus creates a memorable monster in Clapet, the butcher, a man driven to terrible deeds by desperation, but then creating a comfortable life for himself out of it. Dominique Pignon is a very unusual hero, certainly not the square-jawed type, and Marie-Laure Dognac makes for a sympathetic leading lady.
There are visual gags galore that get past the language barrier, but the subtitled dialogue is also full of great moments. All of this is then contrasted with the warped visuals, the parade of grotesque figures and the very real threat presented by the Butcher and his tenants to create an experience that is unique and very cinematic.
There has never been a vision of the apocalypse like this, which makes it an uniquely entertaining treat.
Top
---
Trailer
Top