Review
Katie has been hounded by paranormal activity ever since she was a young girl. Now she is living with Micah and he wants to get to the bottom of things now that she has told him about it. He buys a video camera that can film at night and document what is going on even whilst they are sleeping. As events get ever stranger and the manifestations get ever stronger, Katie begins to fear for them both.
OK, so it's another 'camcorder footage' cheapie horror knock off (God THE BLAIR WITCH PROJECT has a lot to answer for), but what it lacks in originality of concept PARANORMAL ACTIVITY makes up for in creepiness. The certificate is 15 which should tell you all you need to know about the level of gore in the film (as in there isn't any), but this is a scary movie that accepts the tenet that whatever is in the viewer's head is way scarier than anything you can put on the screen. Nothing is scarier than the thing half-seen, not seen or only heard.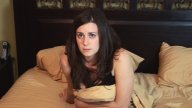 There is a scene in the 1963 haunted house movie THE HAUNTING in which two women are terrorised by something on the other side of the wall, something that they can only hear. PARANORMAL ACTIVITY takes that scene and strings it out over the full 86 minutes running time. This film makes the best use of sound, be it footsteps, banging, squeaking or the low, creepy hum that presages every supernatural event. It's not just noises, though. Lights come on and off by themselves. Katie sleepwalks. There are shadows and...
All of this is deeply unsettling, happening as it does whilst the couple are asleep, when they are at their most vulnerable. Thinking about that too hard might give you a few sleepless nights afterwards.
It helps that the film is grounded in the reality of the young couple. Katie Featherstone and Micah Sloat manage to shoulder the movie comfortably, coming across as a real couple with all their flaws and contradictions intact. The script is pretty organic, to the point where it's not easy to see what is scripted and what is improvised. They are very likeable and draw the audience into their world before the wierdness starts.
PARANORMAL ACTIVITY is a low-budget horror that relies on atmosphere and a real creep factor for its scares and as a result is one of the most effective scarers for a good time.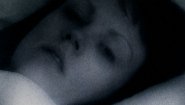 Top
---
Trailer
Top