General Release 2010
112 minutes approx
Certificate 12A





Scott Pilgrim -
Michael Cera

Ramona Flowers -
Mary Elizabeth Winstead

Knives Chau -
Ellen Wong

Wallace -
Kieran Culkin

Stephen -
Mark Webber

Kim -
Alison Pill

Young Neil -
Johnny Simmons

Lucas Lee -
Chris Evans

Todd Ingram -
Brandon Routh

Gideon -
Jason Schwartzman



Directed by -
Edgar Wright

Written by -
Michael Bacall and Edgar Wright



Trailer

Review
Scott Pilgrim is something of a loser. He's never gotten over being dumped by his girlfriend (who went on to become hugely successful), he's now dating a girl in high school, his gay roomate wants him to move out and his band stinks. Then he meets Ramona Flowers, the girl of his dreams. Unfortunately, to keep dating her he will have to vanquish her seven evil exes. Fortuantely, Scott Pilgrim just happens to be a martial arts master.
First things first, SCOTT PILGRIM VS THE WORLD is not meant to be taken seriously. This is a gamer's fantasy. A loser geek has astonishing kung fu karate moves and can suffer huge damage without apparent injury. Each blow landed has a score attached, each enemy is vanquished in a shower of coins. A guitar hero band-off is fought by Final Fantasy style monsters. There are magic doors and psychic powers come from the power of being vegan. It's all absolute nonsense, but it all works.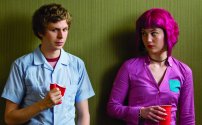 Because no matter just how silly it is, SCOTT PILGRIM VS THE WORLD is enormous fun. It's original, strikingly visual, powered by a witty script that is delivered by a strong, on-form cast with great comic timing. Think KICK ASS without the searing realism.
Michael Cera does his usual lovable loser schtick, but it's a character that is perfect for the lead role here, so it seems churlish to complain. Mary Elizabeth Winstead matches him as the irrepressible Ramona Flowers who is left unfazed by most things, except perhaps for her own feelings for Scott. The rest of the supporting cast are excellent with a standout comic best friend routine from Kieran Culkin as Wallace. In the corner of the evil exes, Chris Evans' Lucas Lee and Brandon Routh's Todd Ingram are the highlights, leaving Jason Schwartzman a little in their wake as the ultimate bad guy Gideon.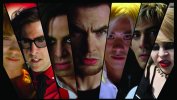 The special effects are excellent with madly over the top fight sequences accompanied by all the 'crash', 'bang' and 'wallop' captions that we used to get in BATMAN. Edgar Wright's direction creates a fabulously entertaining fantasy world that is as fun to be in as it is unbelievable.
SCOTT PILGRIM VS THE WORLD won't be for everyone and anyone who's never played on a playstation might struggle to get it, but gamers, kids and fun lovers will have a great time.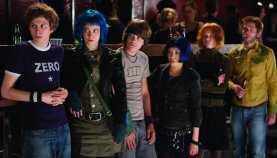 Top
---
Trailer
Top