General Release 2006
95 minutes approx
Certificate 12A





G-Girl -
Uma Thurman

Matt Saunders -
Luke Wilson

Hannah Lewis -
Anna Faris

Professor Bedlam -
Eddie Izzard



Directed by -
Ivan Reitman

Written by -
Don Payne



Official Site
Trailer


Review
Matt Saunders is six months out of a destructive break-up when he is persuaded to chat up an attractive woman on the tube. Initially dismissive, she is is impressed with his feeble efforts to tackle a purse snatcher and agrees to go out with him. Things go fine at first, although Jenny seems a little distracted. He soon finds out that this is because Jenny is G-Girl, the city's guardian superhero, a woman who can fly, is indestructible and has heat vision. Then things turn sour and Matt dumps Jenny. She, however, isn't about to let that happen and sets about making his life misery, which she is in a unique position to do.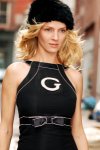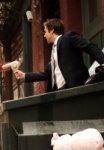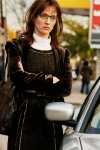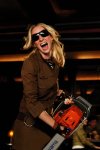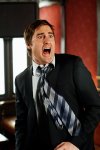 With Superman Returns out on release and X-Men:The Last Stand still hanging around in some cinemas, the time has never been better for a sharp, satirical spoof to send up the whole superhero gig. This isn't it.
My Super Ex-Girlfriend is a pleasant little comedy with its heart in the right place, but barely a sharp tooth in its head. The idea of a superhero turning into a scorned demoness is a top one, but the film fails to properly capitalise on it and that's because it doesn't have a single mean bone in its body. Luke Wilson, as the dumper turned terrorised victim is so loveable and goofy that you can feel nothing for him but sympathy, so when G-Girl starts to get nuts she is clearly the villain. Director Ivan Reitman, however, isn't willing to make her an out and out baddie so that, whilst some of the things that she does are funny (car in orbit, great white shark in the bedroom) they all just smack of overreaction. Her replacement in Matt's heart, played by Anna Faris in a surprising blonde wig, is also so nice that you can't hate her either, so there is a triangle with nobody that you want to lose out or dislike.
Eddie Izzard plays Professor Bedlam as a camp supervillain and is a hoot to begin with, certainly having all the best lines, but when he has to sell being in love with a woman, he fails dismally, completely undermining the whole ending.
That said, most of the jokes work. A few more of them would have been nice, but the scenes with G-Girl refusing to save the city because she doesn't want to leave her boyfriend with another woman, the whole shark in the bedroom scene, the sex scenes (non-graphic and played for laughs) and a scary moment with a chainsaw are all winners. G-Girl's revenge takes inventive form and had it been willing to go a little darker it could have made for a much sharper and funnier film.
The special effects are pretty well done despite not having the budget of the superhero big hitters and used sparingly, never trying to outdo the bigger hitters and even having one rescue played out on the television. It's also one of the nice touches that G-Girl's name is never explained and that her costumes are not as indestructible as she is. Her origin story flashback is also a hoot.
If you only see one superhero film this year, make it Superman Returns, but after seeing that, try out this and you will find much to like in its slightly warped (but oh so accurate and slightly too safe) take on the personal lives of superheroes.
Top
---
Trailer
Top